Each month in 2023 I'm sharing a Temperature Snake CAL roundup with a collage of some of our snakes' progress – even if you aren't joining in, I think you'll enjoy seeing all the snakes growing throughout the year!
Now we're three months into the CAL, the season is changing, and we're all starting to see new colours popping up on our snakes. (The colour transition should be even more obvious by next month's roundup!)
Here's the March collage from some of the latest photos that have been posted. These are taken from the CAL threads on Discord and Ravelry, plus some from people who've tagged me (@PlanetJune) on FB and IG or emailed to me: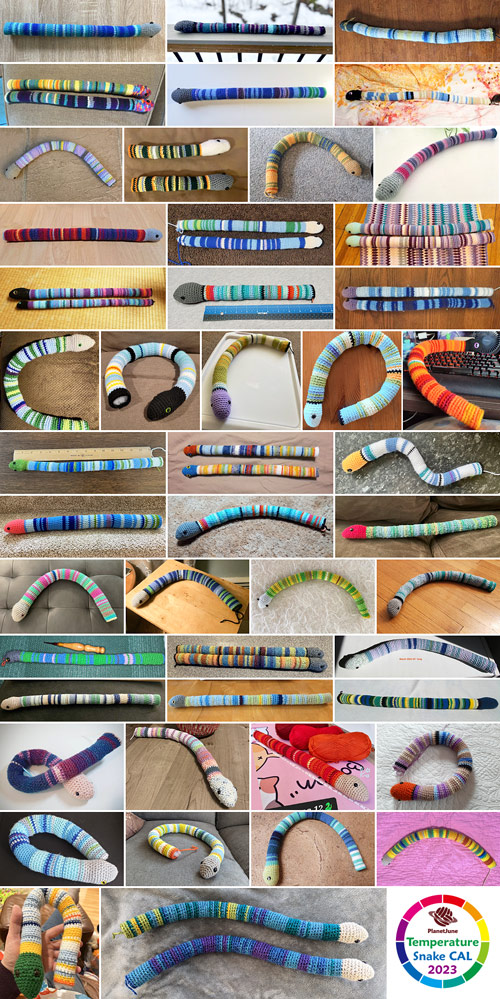 Click to see the full-size collage
Well done, everyone! Can you spot your snake?
Now we're a quarter of the way through the year, our snakes are starting to get too long to straighten out for these photos! This is a good thing – although it makes it more difficult for me to put the monthly collage together when the photos are all different shapes, we can start bending and posing our SIPs (snakes-in-progress) from now on, so they'll look more fun.
With more people still joining every week, these photos represent just a tiny fraction of all the temperature snakes being made all over the world. I'm so thrilled with how well this is going – just look at all these colourful noodles.😊
If you haven't joined in with the community groups yet, please do come over, share your progress with us all, and join in the conversations!
And, if you'd like your snake to be included in the next monthly roundup, please post an up-to-date pic (or email it directly to me: june@planetjune.com) in the last couple of days of April, or by 9am EST on May 2nd May 3rd. I'll try to include as many as possible in each collage.
Feeling like you're missing out on the fun? Don't worry: you can still join us for this CAL! Grab the pattern and get caught up – we'd love for you to join us for the rest of 2023 🙂
And now, onto the second quarter!