Note: If you're looking to buy a finished Discworld or a Discworld pattern from me, please read the update (at the end of this page).
Thank you so much for the Discworld love; I'm so happy you get what I was trying to do here. I also have some news: I contacted Terry Pratchett's agent, to ask if there was any possibility that Terry could see my Discworld, and Colin kindly agreed to show the pics to Terry. And I have a reply from Colin about Terry Pratchett's reaction:
He gave a quiet laugh and said, 'Well, if you're going to crochet Discworld then that's the way to do it!'
Thank you, Terry! (And Colin.) This has made my day!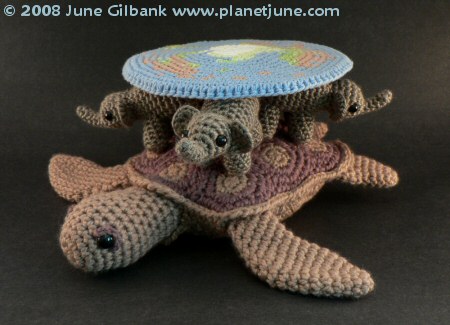 I thought I would share my happiness by revealing some more details of my Discworld project. I've had several requests from people wondering how I managed to accurately crochet in the landmasses of the Disc. I'm not intending this as a tutorial or method for you to follow – I just thought you might like to see the crazy method my mind came up with to crochetify the Discworld

First, I started by crocheting a plain blue circle for the underside of the Disc. I scanned this into the computer. Then I used the Discworld Mapp to sketch (with pencil and paper) a map of the landmasses and a rough guide for my colour changes. I scanned this into the computer too: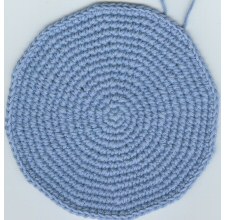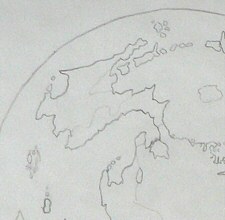 I edited my sketch to remove the white background and darken the lines to black to make them easier to see. I resized the two images so they were the same size, and then layered the map over the crocheted Disc: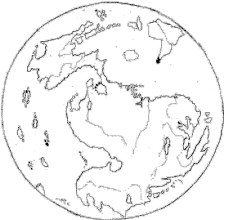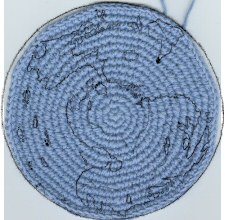 Now for the slow part… but I figured it was better to make the mistakes digitally than to have to rip back when it came to the crocheting part. In my graphics software, I picked a paintbrush that was about the same size as one crocheted stitch, then began to colour in my map onscreen. I kept the coloured layer translucent, so I could still see the stitches beneath. Here's a close-up, and the complete digitally-coloured map: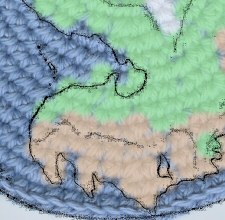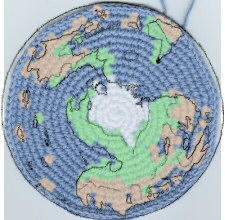 Lastly I turned off the black sketch layer, and printed my 'pattern':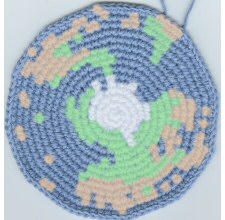 With all that work done, I just had to reproduce my digital crochet in reality! No secret method here – just careful counting and colour changes.
When I had finished, I crocheted both discs together around the edges, to keep it together and give a subtle Rimfall effect. I also stitched the two discs together at various points across the surface (with blue yarn in the blue areas only, so it doesn't show), to avoid any problems with it trying to puff up in the middle – it's called the Disc, not the Lens

Oh, and you may also be able to see from this pic that I used a variegated green yarn, so I chose the lighter green parts of the yarn to be closer to the Hub, fading to darker green towards the Rim. I just thought it added a little more depth: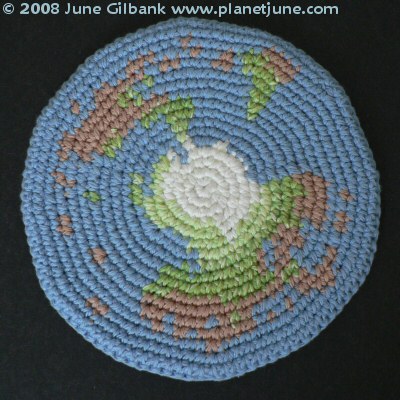 That's it! As I said before, it really was a labour of love, and it took much longer to design than to actually crochet! And now I can say it's officially Pratchett-approved

You can, of course, buy the patterns for my Turtle and Elephants, if you are so inclined.
I hope you enjoyed this insight into the unusual way my mind works. Please leave me a comment if you did…
UPDATE April 2012: I'm very happy so many Pratchett fans like my Discworld – thank you for all your comments and emails! Please understand though that I made it for myself as a one-off fan art piece and it represents about a week's worth of full-time work. If I were to make another one, the price tag would have to be astronomical to cover my time, and, even if you were willing to pay that price, I couldn't sell a Discworld to you, as that would be unlicensed merchandising and I respect Sir Terry far too much to do that! So please don't ask me to make one for you – I just can't do it.
If you crochet, or know someone who does, you may buy my Sea Turtle and Elephant patterns. (You'll need the bulky option for the turtle and the worsted option for the elephants – or hold 2 strands of worsted together to make the turtle, as bulky yarn is approx twice as thick as worsted.)
However, I can't share a pattern for my Disc without permission. I did approach Terry Pratchett (via his agent) to ask for permission a couple of years ago, but I didn't get an answer, so I'm afraid that's the end of that idea too, unless I hear differently from the man himself. For your own version of the Disc, you could crochet a plain blue circle easily enough, and then add the land masses with embroidery, felt shapes, or fabric paint. I also recommend you insert a circle of plastic or cardboard between the two circles so the disc won't sag.