Everyone's favourite pint-sized pup, the chihuahua, now comes in crochet form:

Chihuahua facts:
The Chihuahua is the smallest breed of dog in the world.
The breed originated in Mexico.
A typical chihuahua only weighs between 2 and 6lb!
Chihuahuas come in long-haired and short-haired varieties, and all sorts of colours.
Famous chihuahuas include Bruiser from the movie Legally Blonde, Paris Hilton's dog Tinkerbell, and the canine stars of the upcoming movie Beverly Hills Chihuahua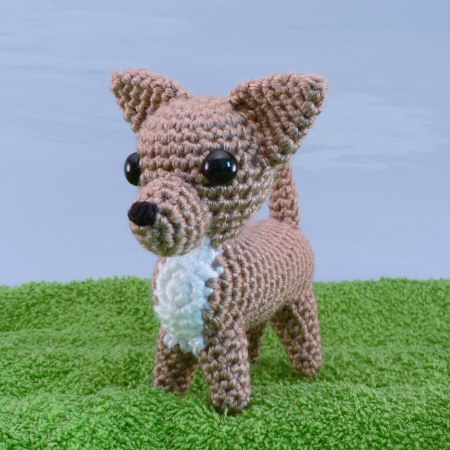 The AmiDogs Chihuahua measures just under 5″ long. If you'd like to make your own, the crochet pattern will be available shortly in the store. (For those who are still waiting for the Paint Set, it should be up in the next day or two!) If you're on the mailing list, you'll be e-mailed as soon as each new pattern is released.
I still have a list of other dog designs to work on in future, but please feel free to comment and add your requests for more breeds!
UPDATE: Looking for the pattern? You can find the AmiDogs Chihuahua crochet pattern in my shop.