This is sweater #11 of my 'learn to knit by making a dozen self-designed sweaters' project. (Here are links to #1, #2, #3, #4, #5, #6, #7 #8, #9, and #10, if you'd like to see my progress.)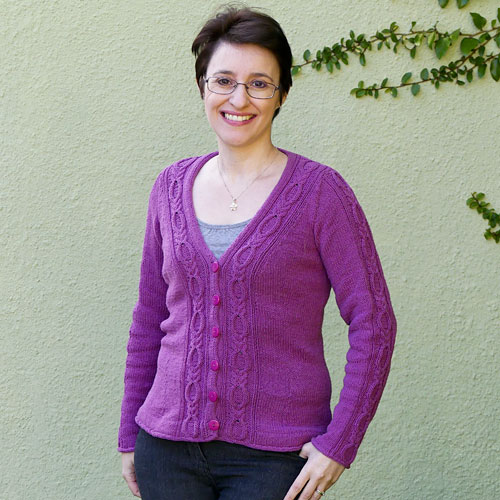 With only 2 sweaters left to go, I didn't think I could really claim to have conquered knitting if I'd never tried to cable, and I couldn't put that off any longer!
I used Ysolda's instructions for cabling without a cable needle – I've done all my knitting so far with just my interchangeable circular needles, and I like the idea of not needing any extra equipment where possible. Cabling is kind of fun – I don't know why I waited so long to try it!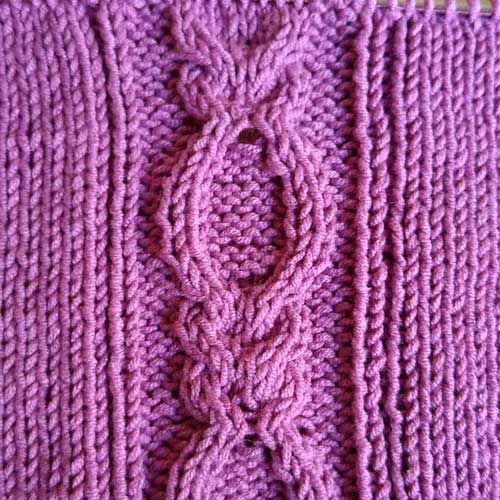 Aside from the cables, I tested out a few more new (to me) techniques with this design:
I read that, when making a turned hem after a provisional cast-on, using one size larger needles for the joining row gives a less visible result, so I tried that. Verdict: I'm not sure it made much difference….
I didn't know how to tackle joining the part of the facing that sits behind the cable, so I left those stitches on some waste yarn and then sewed them to the back of the cable later.


Verdict: I'm really happy with how neat it looks!
I worked the cardigan as one piece up to the armholes, but I tried using a 'basting' stitch at each side – one extra column of purl stitches, to be 'seamed' later to add stability where the side seams would normally be.
'basting' column (L: right side, before seaming it invisibly away, R: wrong side)

Verdict: It worked, but I think I prefer working in pieces and seaming. Call me weird, but I love mattress stitch!
Apart from that, I used techniques I've used before: waist shaping, and an attached icord edging all the way around (including the bottom edge and sleeve cuffs), leaving the icord detached to form buttonholes – a throwback to my very first sweater! In this case though, I think the icord echoes the width of the cables and gives a nice finish.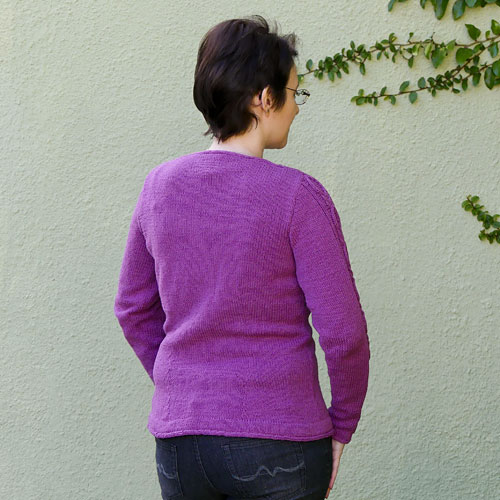 I really like the finished sweater, but keeping track of the 20 rows of the cable proved a bit frustrating at times – I'm not fully able to read the cable stitches yet to see where I am, as the shaping of the cable only really becomes apparent in later rows. I tried dropping down to fix mistakes, but because cabling takes a different amount of yarn than regular stitches, I wasn't happy with the results and ended up having to frog 4 rows a couple of times when I'd made the open circle in the cable pattern too long or too short, and only realised much later.
I also found the cabling took too much time away from the meditative action of knitting, so I don't think I'll be designing many heavily-cabled pieces in the future (although, a simpler cable with an easier repeat may be an option).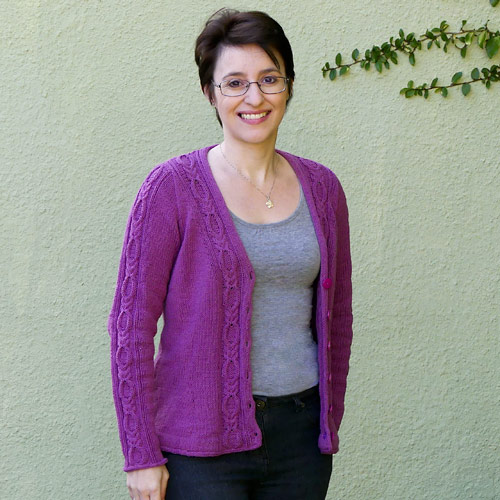 But I'm happy with the end result, and the yarn (a cotton/acrylic blend) will make this a nice lightweight piece for warmer weather (although completely inappropriate for the current Canadian winter – I'll look forward to wearing it next spring!)
---
So that was 11 of my 12 sweaters for this 'learn-to-knit' project completed, and at this point I was in a quandary as to what to design for the final piece in the collection. Was I still missing any essential knitting skills? (Colourwork is the obvious one, but I want these to all be wardrobe staples I'll wear all the time, and I really don't wear multi-coloured sweaters.)
I'll reveal what I chose to make for the last piece in my next knitting update…