If you've been following my blog for a while, you may remember that I have a tradition of crafting a new poinsettia every year, to mark the holidays. Here's the collection to date: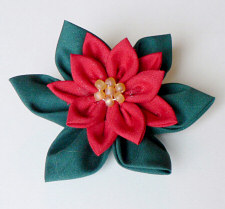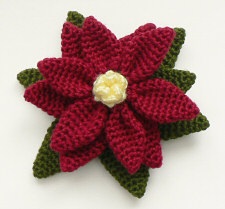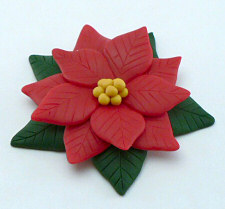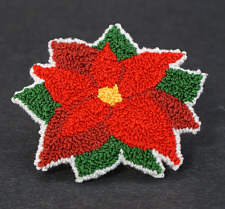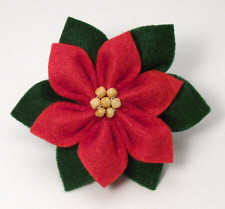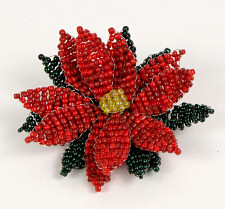 Top (L-R): 2006 kanzashi poinsettia; 2007 crocheted poinsettia 
Middle (L-R) 2008 polymer clay poinsettia; 2009 punchneedle poinsettia
Bottom (L-R) 2010 felt poinsettia; 2011 beaded poinsettia
Although you can't tell from these individual photos (and I don't have them all to hand to take a group shot), there's one sore thumb in my poinsettia group: the crocheted poinsettia. It wasn't until after I'd made it that I decided to start this collection, so it doesn't match in colour or size. All the others are 2-3″ diameter; the crocheted version much larger, at about 6″ across!
I decided to rectify that this year, and scale down my crocheted Poinsettia pattern by using thread and a small hook instead of the worsted weight yarn specified in the original pattern. I like #8 perle cotton because it's available in many colours, so easy to find appropriate shades, but it's too fine for me to crochet with – I get hand pain when I try to crochet with very fine yarns and tiny hooks. This time I determined to be sensible – it's so important to listen to your body and stop when it hurts, before you reach the point of doing real damage…
And here's the result: the 2012 PlanetJune Poinsettia is a thread crochet poinsettia. If you'd like to make one too, just follow the Small Poinsettia instructions in my pattern and use crochet thread and a small hook.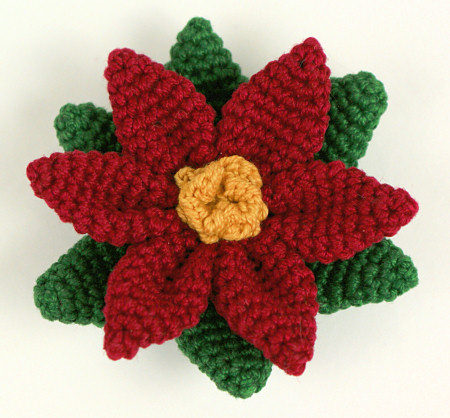 For this poinsettia, I used 2 strands of #8 perle cotton held together, and a B (2.25mm) hook, which gave me the perfect sized poinsettia (2.75″) to fit in with the rest of my collection. I limited myself to a maximum of 2 leaves per day, with only minimal discomfort as a result. And now I've proved I can do thread crochet again, provided I keep it to just a few minutes at a time 🙂
There's still time to make your own small poinsettia before Christmas: with only 12 leaves instead of 18, it's much faster than the standard large version, and it still looks good. You can find all my Poinsettia designs as PDFs in my shop, or use the links above for the free online versions.
And that makes 7 poinsettias! I wonder which craft I'll try for next year's design…