Dear Readers, this is my Christmas present to you: a super-fast free crochet pattern that might just be the solution to all the last-minute gifts still remaining on your list! Just look at all the variety you can create using this one simple pattern: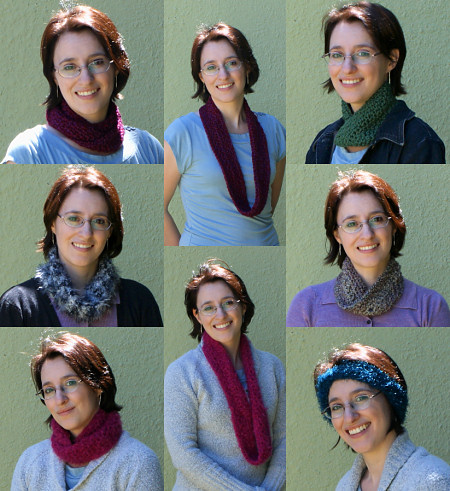 Based on a Möbius strip, the Chunky Moebius Cowl is worked in one continuous spiral from the centre outwards – an ingenious construction that makes it very fast and simple to crochet once you've made and joined the foundation row.
Although I didn't have anyone else available to model for my photos, this pattern is most definitely suitable for men too (in a suitably non-fluffy yarn; see the green version below for an example) – the stitch pattern has a simple but bold texture and the cowl is easily customized to fit any size – men, women, or children.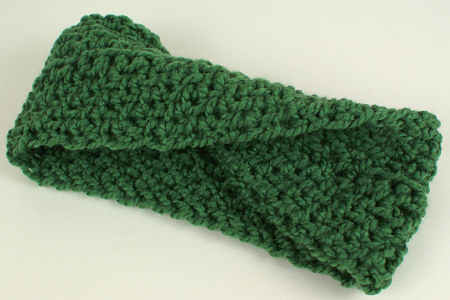 My top 3 reasons to love this unisex pattern:
Quick and easy: With simple stitches and no turning or seaming, this pattern is amazingly fast to work up using a large crochet hook and bulky yarn. I can make one in under half an hour, so I'm pretty sure even the slowest crocheter can whip one up in couple of hours or less!
Infinitely versatile: I'm calling this pattern a cowl, but I could just as easily have called it a neckwarmer, infinity scarf, headband, earwarmer… The pattern is easy to customize to any length and width.
Stashbusting: One cowl only takes one skein of yarn or less, so it's a perfect way to use a single skein of bulky yarn or to use up some of that novelty or textured yarn you have lurking about! Or, hold 2 strands of a finer yarn together to make your own custom colour-blend (as I did in my red/purple version below).


Looks good in any yarn! L-R: fluffy #6 super-bulky yarn; normal plied #5 bulky yarn; 2 strands of #3 light (DK) yarn held together; soft textured #5 bulky yarn.
I hope you'll enjoy this pattern!
Go to Chunky Moebius Cowl pattern >>
Crochet-Along with us…
If you'd like to make one (or more – it's pretty addictive once you've made one and seen how easily it comes together!) please join the PlanetJune Accessories Crochet-Along and show us what you make, by posting to the Accessory-Along CAL thread in the PlanetJune Ravelry group.
The CAL runs until the end of the month, so perfect timing for those mad-dash-to-the-finish gifts you may or may not need to make – and if, for some reason, this cowl doesn't grab you, you might like one of my other donationware scarf patterns that are also pretty fast to work up (although nothing beats this cowl for speed!):