Christmas CAL and Contest
I can't believe it's that time again already! I hope you'll take part in this year's PlanetJune Christmas CAL; it's turned into an annual tradition. I now have 9 seasonal patterns to choose from (several of which are free/donationware), there'll be prizes for all participants, and you can browse through the lovely roundup post on Christmas Day when you're stuffed full of food and feeling too lazy to do anything else!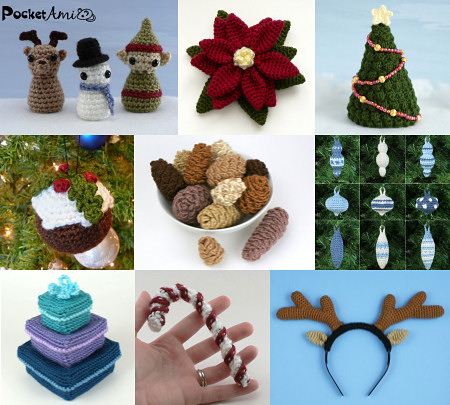 You'll find all these patterns in the Holiday & Seasonal category in my shop.
First prize: a $10 gift certificate to spend on anything in the PlanetJune store.
Second prize: a free pattern of your choice from the PlanetJune store.
Runner-up prizes: I'll send a discount code to all participants, to use against their next order from the PlanetJune store.
Whip up some of the popular new pine cones – or any other of my seasonal designs – snap a quick photo, and join in by posting it to the Christmas CAL 2012 thread in my Ravelry group – I hope we'll see you there!
Review and Win contest
November's 'Review and Win' winner is Diane G, with her review of my Farmyard Pigs: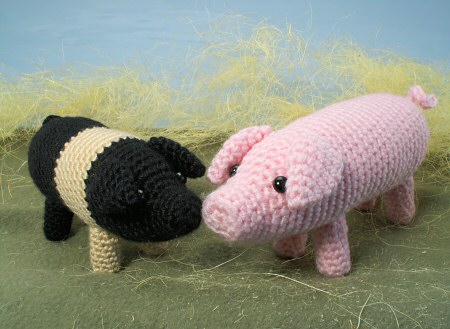 If you are wondering if you'll be able to do this, you can. I've been crocheting for less than a week, and he turned out amazing.
The directions are simple, straight forward, and for someone very new to crocheting, I had no questions at all.

What I really like about him is how closely he resembles an actual farm pig. Most of the crochet patterns you find are for a more cartoon-y look. Personally, I prefer realistic.

The price is great and I'm looking forward to trying alternate colors on him next. I think he'd make a great gift for any pig lover!
Congrats Diane – I'll email you to find out which pattern you'd like as your prize 🙂
Other News
My crochet video tutorials are on hold until next year, as my hands are currently in no state to be filmed in HD (or at all) after my recent eczema fiacso. I was also hoping to take most of December off, as I did last year (to rest and rejuvenate, and plan for the coming year), but I lost a lot of November to illness so I need to keep going just a little bit longer so I can get one last quick-to-crochet pattern to you in time for your last-minute Christmas gift-making. I can feel myself slowing down though – my batteries are going to need some serious recharging after this last push!