It's time to present another commissioned design: Giant Panda!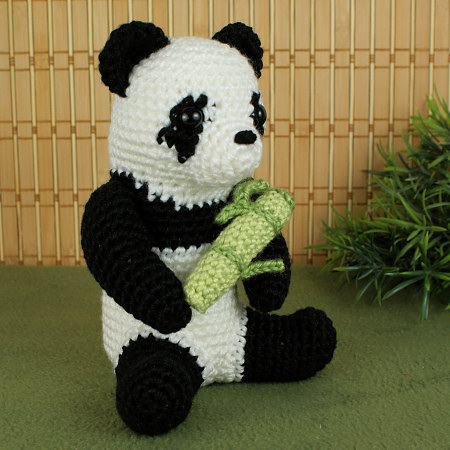 This pattern is a little later than scheduled, both because I've been sick and because I wanted to take some extra time to really perfect this design. Some designs come easily, and some take extra time and care to get just right. With an animal as iconic and well-known as the Giant Panda, there were a few criteria I knew I had to include in my design; every crocheted panda I've ever seen is just a basic toy bear shape with black circular patches added around the eyes, and that's not the way I wanted to go.
My panda needed realistic shaping – the sloped back of head and neck, the iconic comfy seated pose – as well as some clever colourwork to give the shaped markings around the shoulders and realistic, symmetrical eye patches. I also had to strike the right balance between including all the features I wanted and making a pattern that isn't ridiculously complicated to follow. With all those factors to juggle, I ended up making three complete pandas before everything came together perfectly!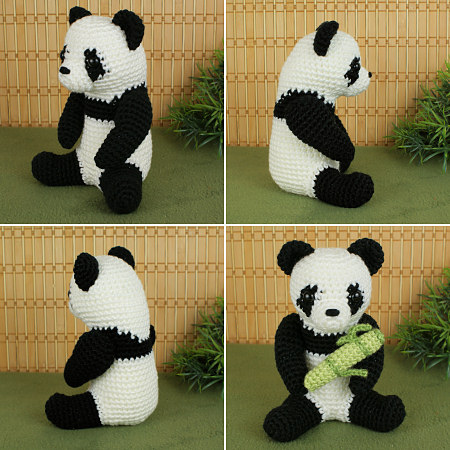 In the final design, there are only 8 rounds of follow-carefully colour changes, and the pattern includes lots of tips – specific to this pattern – to make the colour changing easier and ensure you'll get a beautifully tidy result. I've introduced a few new simple but effective shaping techniques too that are built right into the crocheting – I think you'll enjoy how easily they come together when you make your own panda…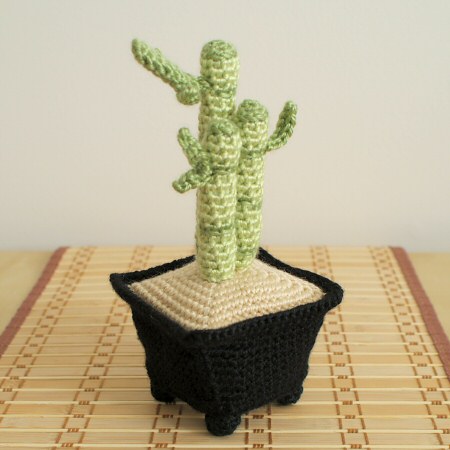 I should mention that the bamboo my panda is holding is not included in the Giant Panda pattern – it's taken from my Lucky Bamboo pattern, which you can buy separately. However, the Giant Panda pattern does include the modifications for turning the standard Lucky Bamboo pattern into the freestanding panda-sized bamboo stalk you see pictured above with my panda. 🙂
(Btw, my newsletter is going out later today with an exclusive discount coupon for the Lucky Bamboo pattern. I'll be re-sending that update to new subscribers on Monday, so sign up this weekend and you won't miss out!)
If you pledged towards the Giant Panda commission, you should have already received your copy of the pattern, and the panda's bamboo as a special commissioning bonus. Otherwise, if you'd like to make a panda of your own, you can now pick up the Giant Panda crochet pattern from the PlanetJune shop!
If you're not quite ready to buy though, how about queuing Giant Panda on ravelry so you don't forget about it?