We'll hopefully be moving into our new house this week, and I'll have the challenge of figuring out how to set up my new craft room/office/photo studio. To make that task a bit easier, I thought I'd put together a visual guide to my old craft room, and I thought you might enjoy seeing it too – maybe it'll give you some ideas for your own craft space!
I sadly didn't have time to take photos before dismantling everything and depersonalizing the room to stage the house for sale, so I've compiled this guide from photos I took for previous posts. There are some strange angles, gaps, and different lighting etc as a result of that, but that just makes it more interesting, right? 😉
In case you want to know more about the crafty projects you see in the photos, I'll link back to my original posts where applicable.
Okay, now let's take a tour anti-clockwise around the room, starting from the doorway…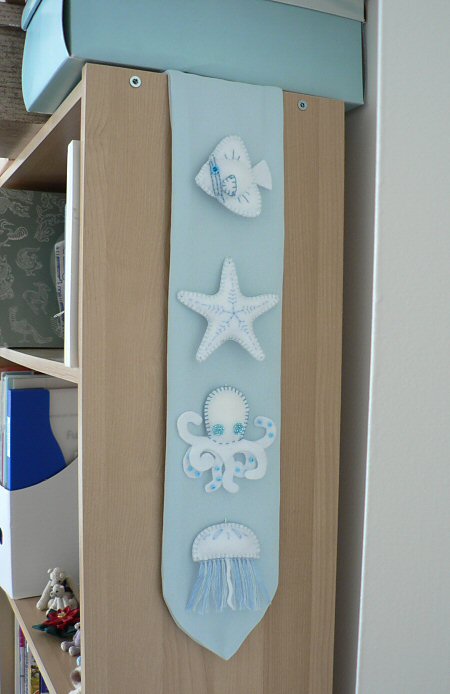 To your right as you enter, my bookcase, made prettier with a little crafty decoration down the side.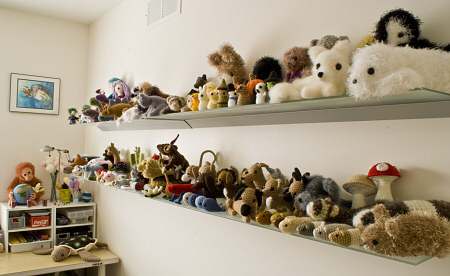 To the left of the bookcase, amigurumi galore! My overcrowded toy shelves. (Beneath the shelves, I kept my business/shipping supplies and digital piano – I had to sell the piano before we moved, so at least I won't need to fit that into the new room.)
At the left of the photo, you can see the edge of desk 1…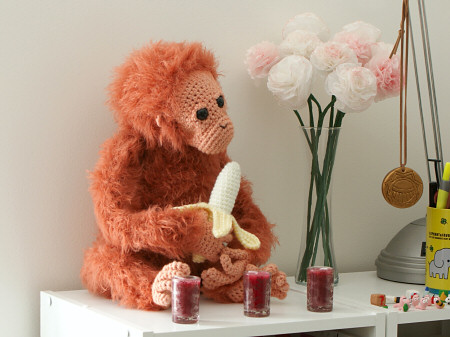 As you can see, it had good natural light from the window, so I used this desk mostly for polymer clay and papercrafting. I kept a row of cubbies and baskets along the back of the desk to store small supplies: paintbrushes, crochet hooks, glues and varnishes, etc.
Under the window, I had a low table with my toaster oven (for polymer clay, shrinkydinks, etc) and I kept storage boxes underneath the table. No photos of this, and of course I couldn't bring the toaster oven to South Africa (it's electric, so the voltage would be wrong).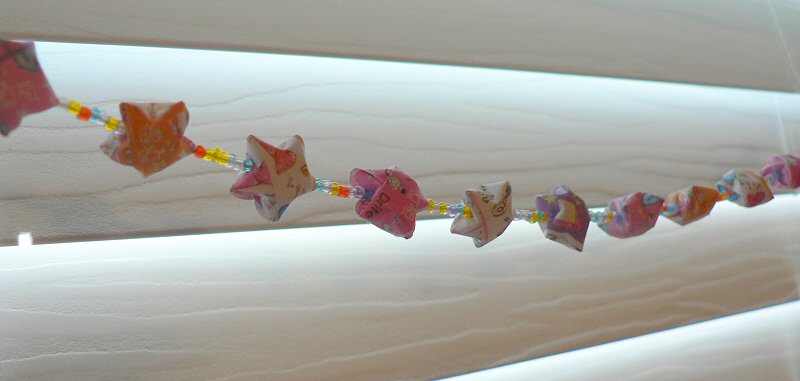 I decorated the window with origami – this strand of lucky stars along the top, and 6 dangling vertical strands of silver thread, each strung with a few sparkly beads and origami lotus flowers, cranes, and diamond shapes, spaced across the window. (I did try to photograph the vertical strands but, with them being so small and backlit, I never managed a decent photo.)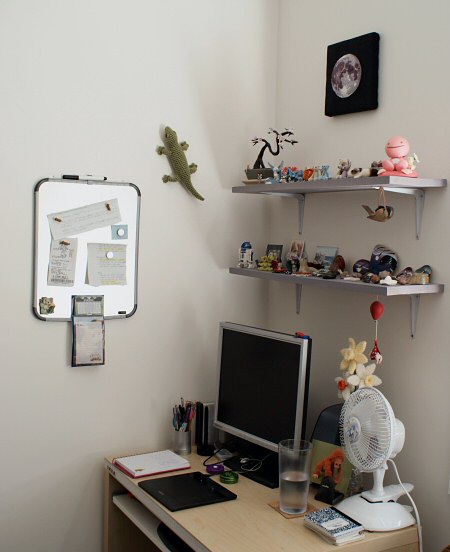 My computer desk, with a magnetic dry-erase board mounted on the wall next to it, and my wall-climbing amigurumi gecko!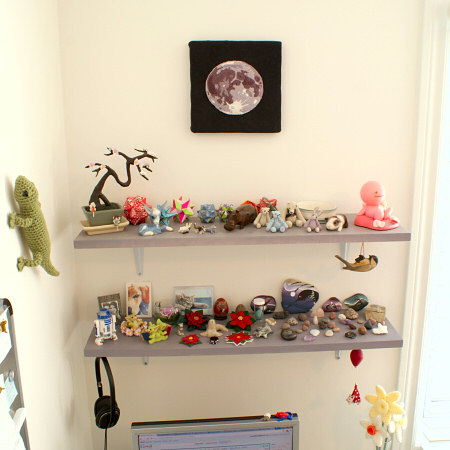 Above the desk, some shelves I made to keep various trinkets – mostly handmade ornaments and a few travel souvenirs.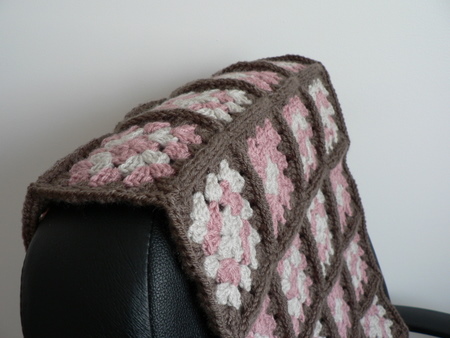 I prettied up my stark black leather office chair with a custom-designed crocheted granny throw.
Now moving along to the other side wall…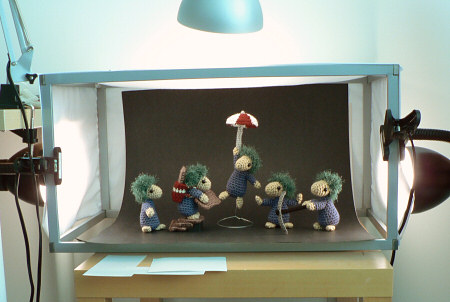 Light tent for my pattern photography. I eventually replaced the tiny table you see here with a wider coffee table and then stored all my computer accessories, gadgets etc in decorative patterned cardboard boxes (from IKEA – sorry, I apparently never photographed them) underneath – you'd never guess their geeky contents from the outside!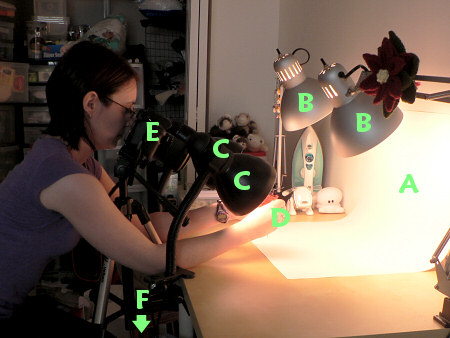 Desk 2. I kept my sewing machine here, and borrowed the desk space when needed for the print-quality tutorial photography for my book (shown in-progress here – the letters refer to my blog post about this setup), and for filming tutorial videos.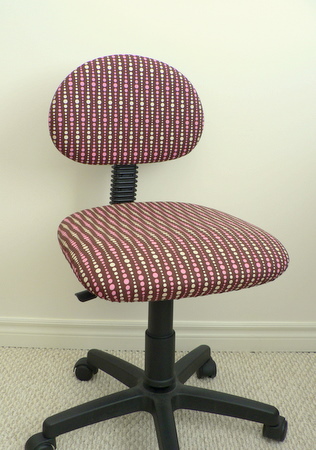 I re-covered this boring grey office chair with pretty fabric. I shared the chair between desks 1 and 2, as I could only sit at one at a time anyway!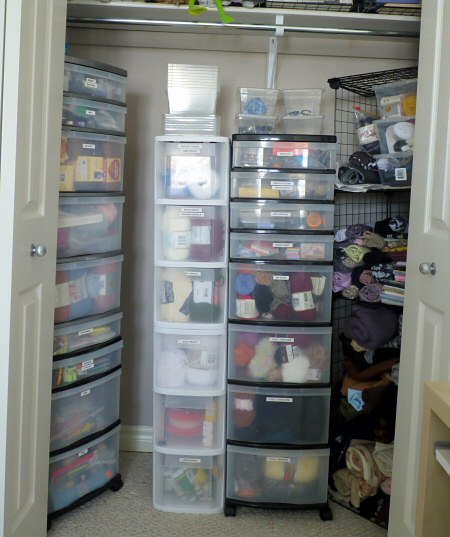 And finally, the built-in closet, aka craft supply heaven. The wire shelving on the right contained my fabric stash, and the plastic towers of drawers were filled with yarn, FIMO, and supplies for all my other crafts. For each plastic tower, I cannibalised 2 units and snapped them together so I could create these taller towers that fit my space better. The contents are organised and the drawers are all labelled so there's a drawer for stamps and punches, one for papercrafts, one for embroidery supplies, one for art supplies, etc etc, and then yarn split by weight, type and brand.
Not the prettiest solution, but I could always close the closet doors to hide the mis-matched units if required. The only problem is that my yarn stash inevitably outgrew the closet, so I'll need to rethink things a bit this time around.
On top of the units, I had a stock of clear plastic boxes with lids, in two sizes. Each in-progress project gets its own box, so I can easily see what I have on the go, and keep all the pieces of one project together. This idea works really well for keeping organised and keeping the clutter down on my desks.
So that's what I left behind… My new room will be very different and quite a challenge – it's currently an empty square apart from a very cool fireplace in one corner: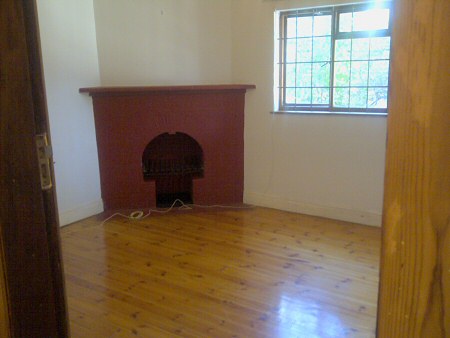 The lighting is terrible (small window, bare bulb hanging from the ceiling near the door) and there's only one power socket on one wall, but that's what happens when you buy an old 1920s bungalow instead of a modern cookie-cutter characterless house. Our new place has a lot of personality!
What do you think of my craft storage solutions? Any suggestions for me to improve things this time around? If you have photos of your craft space, or links to photos of other people's beautiful craft rooms that might inspire me when trying to set up my new room, please share them in the comments!