After a very long 10 weeks of being without any of our stuff, the delivery team arrived yesterday with our shipping container! We spent most of the day re-assembling pieces of our IKEA furniture and discovering long-lost treasures in some of the many boxes we now have stacked up all over the house. The day ended when we went back to our flat to collect Maui and bring him to his new home 🙂
Here's my craft room this morning: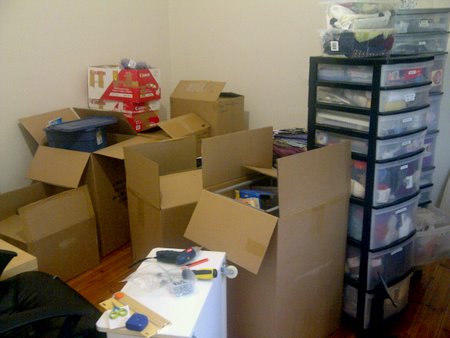 Yay – a whole room full of my craft supplies! It's going to take some effort to turn this into a functional craft room though…
I also just realised that with all this moving craziness, I missed my 5th blogiversary last week. Let's pretend that didn't happen, and I'll write my end of year roundup post later today – I'll need to take a break from unpacking at some point and this will be a good reason 😉
There's a lot more work ahead of us to get everything sorted out, but I'm just so happy and relieved that we finally have a home again!