For the Granny Squares theme on Crochet Along, I decided to make a throw to decorate the office chair in my craft room. I figured out I would need a long strip, 13 squares long and 3 squares wide. When I'd finished all the squares, I measured the finished squares against the chair and decided it needed a 4th column of squares to look better. I didn't quite have enough yarn for the additional 13 squares, so I had a mad dash to Michaels to hope they still had the same dye lots in stock (they did with the linen colour, but not the brown, but I can't see the difference so that's okay).
The upshot of all this is that I didn't finish the project during the theme time, but I'm only a week overdue. And here is the completed throw: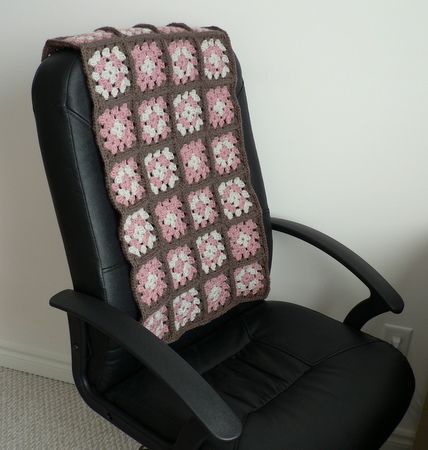 The throw also comes to the same length behind the chair, so it breaks up the expanse of black leather nicely. I'm especially pleased with the way one square is exactly the same as the width of the top of the chair, so the throw sits squarely on top of the chair and isn't likely to slide about: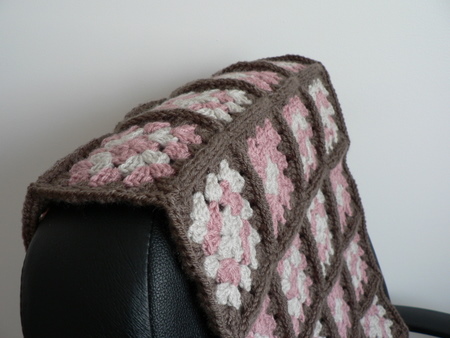 I found the Vanna's Choice yarn pleasant and even to work with, although not as soft as the yarns I usually favour. But I think it will stand up well to use, and may soften with washing.
The rest of my craft room is still plain and undecorated (apart from the toy shelves), but I have grand plans! More on that soon…