…June the month, that is! I suppose all my posts are 'June updates', in a sense 🙂
I'm finding it hard to get my head around the fact that it's autumn/winter here – switching hemispheres is quite disorienting! And the fact that flowers are still blooming, birds are mating, and most trees are still green makes it even more difficult to believe it's not really spring. But – finally – I found a view that does make it look (slightly) like autumn: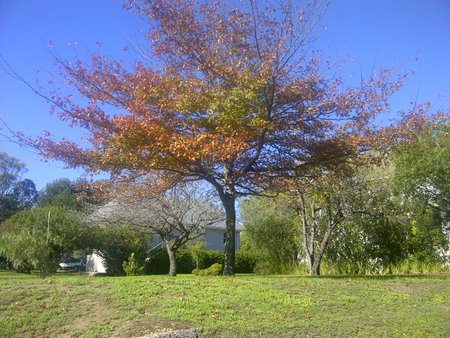 Beautiful, isn't it? This tree is on the Observatory grounds.
The May 'Review and Win' contest winner is Mary Z, with her review of my Gossamer Lace Wrap: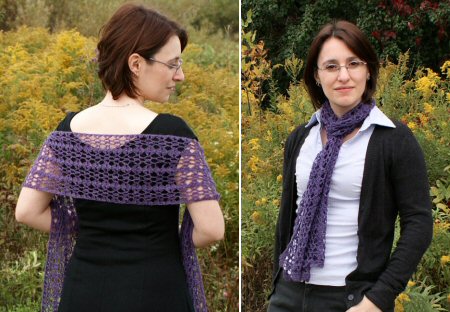 The Gossamer Lace wrap pattern is very clearly written with nice charts. I recently used the pattern to make a scarf, and had no trouble adjusting the pattern to a shorter starting chain. The scarf has gotten many compliments! Thanks PlanetJune!
Glad to hear that, Mary, and congratulations – I'll email you to find out which pattern you'd like as your prize!
It's always nice for me to see people enjoying my PlanetJune Accessories patterns, as they aren't as well-known as my amigurumi designs. I'll be designing some more accessories this year (I actually have a beautiful lacy scarf in the works already – it's cold in this apartment and I needed it to keep warm!), so do let me know if you have any suggestions for future designs you'd like to see in my pattern line.
I feel a strange symmetry here: last time a review of the gossamer lace wrap won the contest was back in March, at which time I was suffering from bronchitis while getting ready to move. It feels like I've barely stopped wheezing from that (it lasted well over two months) but now I've been struck down with another outburst, just when we're on the verge of moving out of our temporary accommodation and into our new house!
I'm sure all the stresses of trying to get set up and used to life in a very different country has played its part – I just hope I can get over the exhausting cough more quickly this time around. I have half a dozen designs in various stages of completion, but between getting sick and now having to move again (although thankfully only a few kms this time!), I'm not sure exactly when I'll be able to complete any of them.
But it's exciting times ahead: we just got the keys to our house, our possessions should be arriving any day now, and then once we get moved in I can set up my new craft room/photography studio/office and get back to work properly! Now there's incentive to get back to full health in a hurry 🙂