This Plumeria is the first design that I've completed since my arrival in South Africa. I first encountered these beautiful flowers on holiday in Hawaii, so I was delighted to discover that they grow here too! Picking up fallen blossoms on my travels, I started to look at the intriguing spiral petal formation, and wondered if I could reproduce it in crochet… Turns out, the answer was yes 🙂
Here's the resulting design: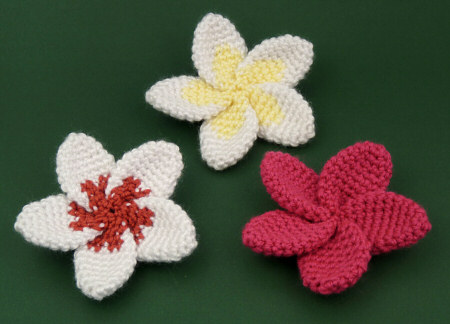 I tried to take a photo of my inspiration for you, but by that time almost all the blossoms had fallen (it's autumn here!) and all I could find were these two tiny specimens on a rainy day. But the lighting conditions gave my photos this lovely ethereal glow, so that's okay: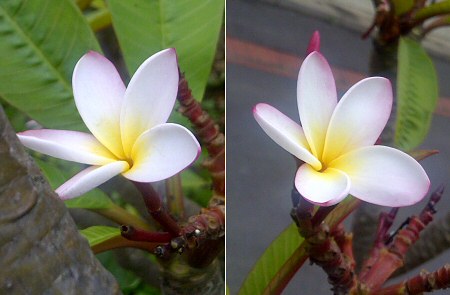 And now you can use my pattern to make your own plumeria blooms, wherever in the world you happen to be. Crochet a touch of the tropics with these exotic plumeria blossoms. Use a plumeria flower to make a beautiful pin or hair accessory, or to embellish anything! My pattern includes three different petal designs – choose your own colours to make custom blooms.

The Plumeria crochet pattern is free for you to use. If you'd like to thank me with a donation, you'll get a handy printable PDF version of the pattern as a thank you 🙂
Enjoy!