Ah, February, where did you go?! I know I haven't posted much lately; my time has mostly been taken up with the process of selling our house (which we managed in a very stressful 3-week whirlwind of constant cleaning and tidying, and being kicked out of the house on short notice for hours at a time while it was being shown) and trying to get all the paperwork sorted for ourselves and Maui to move abroad.
With all that on my plate, it's no wonder that I succumbed to the flu last week! I'm over that now, but now suffering with bronchitis instead, and there's still an incredible amount of tasks we have to accomplish before we pack our bags and set off on our adventure at the end of this month. So, if posts remain light for a while, please bear with me!
I have all sorts of stuff planned for once this move is over with and I have more time to devote to the blog again: new patterns, new crochet videos, and some other surprises. In the meantime, I do have a very cute (if I do say so myself!) new design that I hope to launch in the next week or so, so look out for that 🙂
* * *
Now, with it being March 1st, it's time for me to draw February's 'Review and Win' contest winner… For February and March, I'm trying to encourage people to review products/patterns that don't yet have a review in my shop. Each of these 'first' reviews get a bonus entry into the drawing. I've taken all those bonus entries into account with my drawing, and this month's lucky winner is Anne R, with her review of my Gossamer Lace Wrap: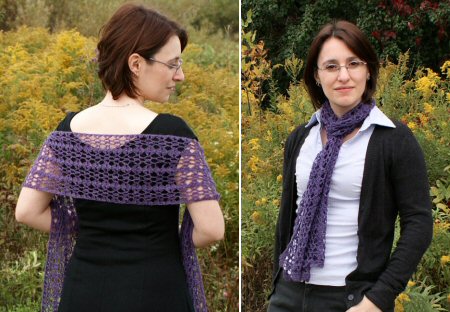 I started with the cowl and now am almost done with the wrap just a few rows till I start the finishing rows. I used merino wool in a lace weight. The pattern instructions are easy and complete. Thanks for making it so easy to add an extra repeat I am not a little woman. I like it so much I am waiting on the arrival of some cashmere yarn to make another. Don't be afraid of this pattern, June has made it so simple to feel like such an artisan and accomplished crafts person. I can highly recommend this pattern.
Congratulations, Anne, I'll email you to find out which pattern you'd like as your prize!
There are still lots of patterns that don't have a review in my shop (to get you started, almost all sizes of Clear Eyes, several individual Dinosaur patterns, and almost all the AmiDogs breeds AND sets are currently review-less…), so why don't you write a review of one of them this month, and get your bonus entry into the March 'Review and Win' draw?
* * *
And one last bit of exciting news: the 3rd Annual Crochet Awards (Flamies) nominations have just been announced, and I just discovered that I've been nominated in two categories: this blog has been nominated for 'Best Crochet Blog' and my book, The Complete Idiot's Guide to Amigurumi, has been nominated for 'Best Instructional/Technical Crochet Book' – that one makes my heart sing! Voting starts on March 15th (I'll remind you!) but I'm really happy just to have been nominated 😀