The winter sale at the Yarn Factory Outlet store (in Listowel, Ontario) runs through this week and next – a bittersweet occasion for me, as this would be my last opportunity to visit the outlet before I leave Canada…
Luckily, the sun was shining yesterday, so my final trip was a picturesque hour's drive through farmland each way. I tried to snap a few photos of the countryside through the windscreen as I drove, but didn't really capture how lovely it all looked, with the endless clear blue skies, white snow-covered fields, and red barns. Winter in Canada can seem endless, but on a sunny day like this it's absolutely gorgeous – I'll miss these farmland scenes when I leave Ontario. This is the best photo I got: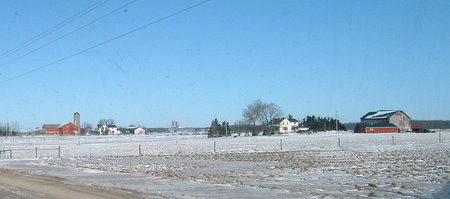 Ontario farmland in the snow
I've shown you the inside of the outlet store before, so I didn't bother taking any more photos; you can get a good idea from the pics in my post from my first visit, 2 years ago – nothing has changed 🙂
This time, I made a beeline for the unlabelled yarn tables, stacked high with miscellaneous yarns, with everything on them priced at 20c/oz – so that's about 80c for a typical 100g ball of yarn… Of course, it's not labelled, so you don't know what you're getting unless you can recognise it by the look and feel. I scored big time – loads of Bernat Satin, a nice assortment of Patons Grace, and a few skeins of random yarns that I couldn't identify, but which will be great for future amigurumi designs: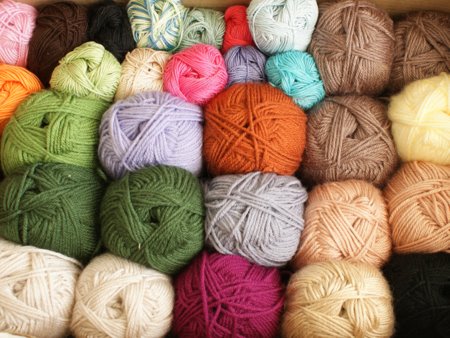 Final yarn haul
Altogether, I got 33 skeins of yarn for around $20! I do love a bargain 🙂
Yarn Factory Outlet, I salute you – it's been a pleasure.