Today's PlanetJune Story is from Heather Hoover of Grove City, OH, who turned her love of crocheting into a business called The Yarnyard, by selling her impressive collection of amigurumi at craft shows. Please note: Heather's kind words are all her own! I blushed when I read them – but not as much as I smiled when I saw this photo of her table at the craft show, laden with so many familiar designs: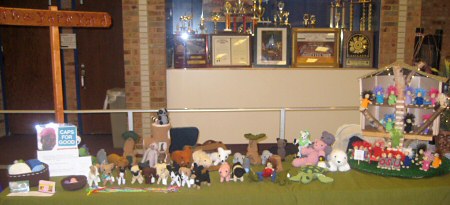 I know – there are too many to make out! Check out the close-ups below once you've read Heather's story….
Heather writes:
After about a year of making Amigurumi for my children, I considered the idea of making them to sell at a local craft show. I didn't want to use just any kind of free pattern available. I wanted good quality patterns that looked both realistic and cute. I also needed to find a designer that would be willing to allow the crafted product to be sold. I quickly began losing hope in my newfound dream because so many designers would not allow selling of the finished products. I was angry! It wasn't like I wanted to steal designs or take credit for them. I simply wanted to enjoy the hobby of crafting Amigurumi and make a little extra cash at the same time.

I kept searching and finally happened upon PlanetJune.com. As I looked through the patterns, I felt completely in awe at the design quality, the realistic look of the animals, and the cuteness encompassing them. I didn't want to get too excited because I felt certain I would run into the same issue of selling the product. I hesitantly searched around the site for the 'fine print'. Much to my delight, I saw "You may sell items made from my patterns, provided you comply with [my terms]". Of course, I was happy to follow these terms. A rush of joy burst through me, and I realized I had found my perfect source.

When I bought my first few patterns from June, I expected them to be on the difficult side. I was pleasantly surprised by the easy to follow step-by-step instructions and pictures she included. I started out simple, but could hardly wait to try my hand at the textured yarns that many of June's high-quality designs suggest. June doesn't miss a step in her instructions. They are very easy to understand. If you do run into a problem, she offers help through email communication and has posted many of her techniques on PlanetJune.com.

After a year of buying patterns and crafting June's designs, I had enough product to sell at the craft show. I communicated my plan with June and she gladly sent me a stack of her business cards to share with fellow crafters. I named my business The Yarnyard; created cards, and made it official. The show was a great success. I sold more than half my items and inspired many crafters to pick up their old crochet hooks. I referred them to PlanetJune with the hope that more people can enjoy the art of crochet and all that June has to offer.

I appreciate June's willingness to share and her dedication to us, as crafters. I believe this is the way it should be in our world of artistic expression. Life is much more fun when we can work together, and that's exactly what June and I did. I helped boost her business by getting her name out there and she made it possible for me to enjoy my hobby and earn cash at the same time.
Thanks so much, Heather, for sharing your story! Unlike many designers, I'm always happy to allow people to sell the products that they make from my patterns, provided they give me credit as the designer, and never share the pattern with anyone else! The way I see it, if you've put the work into making an amigurumi, you deserve to make whatever you can from it. You can buy another pattern from me if you make some money from selling and want to thank me – that way we'll both benefit!
And now let's take a better look at some of Heather's craft show table: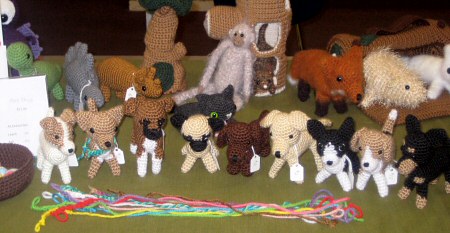 Lots of characters I recognise! Among others, I spot AmiDogs, Dinosaurs, Fuzzy Monkey, Foxes…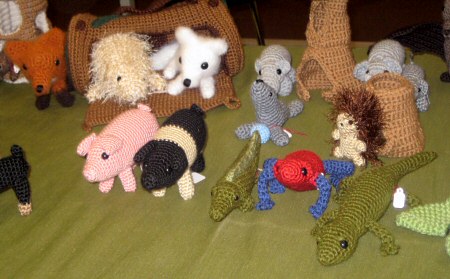 Farmyard Pigs, Poison Dart Frog, Mini Fuzzies Hedgehog, Gecko…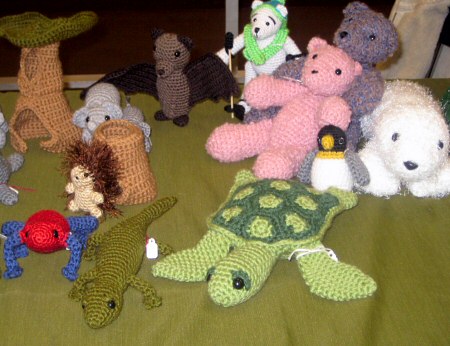 Sea Turtle, Fruit Bat, Fuzzy Bears & Seal…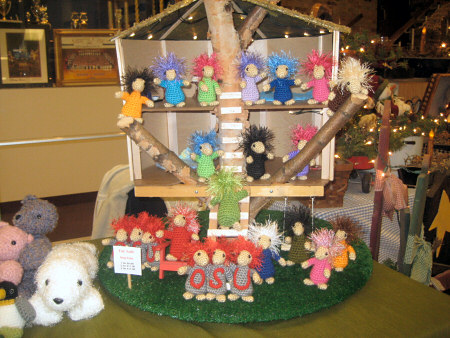 I think this is my favourite pic though – just look at all these Mop Top Mascots! I love the way Heather has displayed them, don't you?
Do you have a PlanetJune Story you'd like to share? I'd love to hear it! Please email your story to june@planetjune.com, together with one or more high quality photos showing what you've made from PlanetJune patterns. If I choose your story to feature here on the blog, I'll send you your choice of pattern from my shop to say thank you!