Amigurumi are typically crocheted in the round, in a continuous spiral, which means that the two sides of the crocheted fabric that is produced will look completely different. You can choose which side faces out by flipping the piece inside out at any stage before closing up the piece, and then continuing to spiral around. It doesn't really matter which side faces out, unless you want to use the invisible decrease technique, in which the 'right side' of the fabric has to face outward for the decreases to be invisible.
I keep getting asked which side is the 'right side', so I thought I'd put this side-by-side comparison together to show you the differences between the two sides.
UPDATED: See also my video tutorial (right- and left-handed versions) to see the 'right' and 'wrong' sides forming as I work, and watch how I can switch between them.
The 'Right' Side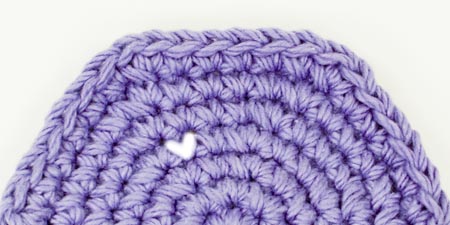 Each stitch looks like a V shape (I've highlighted one in white for you).
Note also that you can see the sideways V shapes around the edge that you will crochet into to form the next round.
The 'Wrong' Side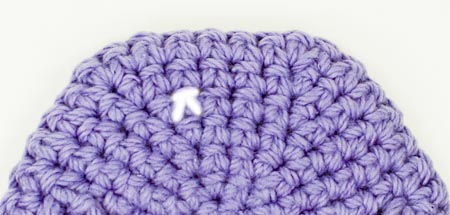 Each stitch looks (to me, at least) like a pi symbol (π) – but maybe that's just my geek side coming out again! Otherwise, you could say it looks like a little table – an upside down V with a bar on the top – again, I've highlighted one stitch in white for you. You won't see any of those horizontal bars if you look at the right side – that's a big clue.
Also, the sideways V shapes around the edge of your piece will be facing to the other side, so you won't be able to see them.
Also, if you're working 'inside out', you'll be working around the inside rim of the piece – see my Worked inside out section for an illustration of what I mean by that. You'll probably find that when you start crocheting an amigurumi piece, this is the way the piece will naturally want to curve. You can just flip it inside out so it faces the 'right' way after you've crocheted a few rounds, and then continue to work around the outside rim after that.
I hope this has helped you to be able to tell the difference between the 'right' and 'wrong' sides – and once again I'd like to stress that I'm only calling them 'right' and 'wrong' by convention: there is nothing wrong in having the 'wrong' side face out if you prefer the look of the stitches that way, or it's just what you're used to. Just remember, if you want to use invisible decreases (which I do recommend; they'll make your pieces look soo much neater!) you'll have to crochet with the 'right' side facing out 🙂
UPDATE It just occurred to me to add this: If you're following a pattern that includes complex colour changes (not just simple stripes), or with some stitches worked in back loops or front loops only, you should make sure you're working the piece the same way out as the designer intended – it will make a difference to the finished appearance!
---
Do you find my tutorials helpful? If so, please consider making a contribution towards my time so I can continue to create clear and concise tutorials for you:
Thank you so much for your support! Now click below for loads more crochet video and photo tutorials (and do let me know what else you'd like me to cover in future tutorials…)