I guess you like the idea of clear eyes to use for amigurumi etc: 77% of you who voted in my poll said that you'd definitely be interested if I started selling them. Well, your wish is my command – I now have clear eyes available in the PlanetJune store in 9mm, 10mm, 12mm and 15mm sizes! (I've just ordered these sizes as a trial run, so if you're looking for different sizes please let me know.)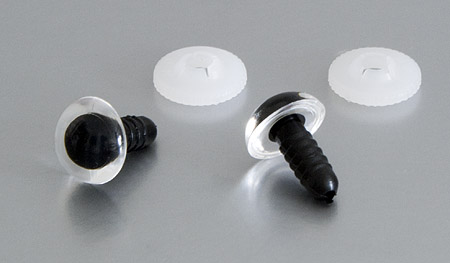 As I mentioned in my previous post, clear eyes have several advantages:
You can paint the flat back of the eye with acrylic paint to get the exact shade you want.
Feeling artistic? Create customized eyes with paint effects – paint spots, stripes, starbursts etc on the back of the eye first, let it dry, then coat the entire back of the eye with the base colour.
Don't like painting? No problem! Just cut a square of felt a little larger than the eye, snip a little cross shape in the middle to poke the shaft of the eye through, then trim the felt so it is the same size as the eye – easy! (Blue and pink felt eyes pictured below)
By the way, the prices of all my eyes (clear and solid black) are now automatically discounted if you buy 10 or more pairs of a single size and type 🙂
And now onto the holiday sale…
From now until December 24th, all patterns (crochet patterns, punchneedle patterns, and The Punchneedle Handbook) will be automatically discounted by 10% in the shop. You don't need a voucher code – this sale is available to everyone! This is your last chance to buy patterns at 2009 prices, and the last sale of this year, so you'll never see prices lower than these. Multipack sets are also discounted, so you can get an even better deal there!

A small sampling of the crochet patterns you'll find in the PlanetJune Shop
Happy Holidays from PlanetJune! I hope you'll enjoy the pattern sale and take this opportunity to try out some clear eyes too. And don't forget: PlanetJune Gift Certificates would make a great Christmas present for the crocheters on your list!