I'm hoping you can help me out by sparing a few seconds to vote on this poll (if you're reading this in a feed reader, please click through to the post to vote!)
I've been getting requests for coloured eyes in my shop. I don't know if you've seen them, but most of them look really awful – the colours are so vivid it makes them look like they are staring. I bought some brown ones and I couldn't use them for anything because they look so scary: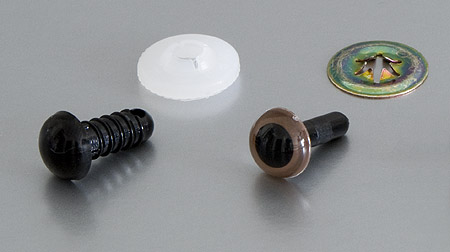 Black eyes and scary brown eyes
I've come up with a better solution – clear plastic eyes: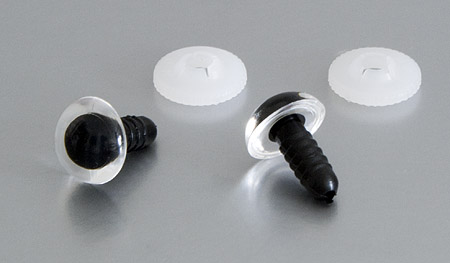 Clear eyes
Advantages of clear eyes:
Paint the flat back of the eye with acrylic paint to get the exact shade you want.
Feeling artistic? Create customized eyes with paint effects – paint spots, stripes, starbursts etc on the back of the eye first, let it dry, then coat the entire back of the eye with the base colour.
Don't like painting? No problem! Just cut a square of felt a little larger than the eye, snip a little cross shape in the middle to poke the shaft of the eye through, then trim the felt so it is the same size as the eye – easy!

Make any shade of eyes using subtle- or bright-coloured felt!
So, my question for you today is, would you be interested in buying these clear eyes if I stocked them in the PlanetJune shop? (They would cost approx the same as the black eyes I already carry.) Please vote below so I can get an idea of interest! If you want to add any additional info (e.g. what sizes would you like to see?) please leave me a comment too!
Update: the poll is now cloased – that you for voting! Here are the results: