I've just been accused of plagiarism and I'd like to address the issue directly and in public to lay the matter to rest. I'm obviously very upset by this: an allegation like this could destroy my business, and I want to make it very clear that there is absolutely no truth in the matter. A commenter calling him/herself Internet Police left me this message:
From the looks of things you modify the patterns found in Japanese Craft Pattern Book / Crochet Amigurumi Dog 2 , you do not design these dog patterns.
Here is my response:
Internet Police: I don't think you're looking carefully enough 🙂

Firstly, my patterns are all 100% original. I have designed over 60 patterns and I have never copied anyone else.
Secondly, my AmiDogs are not that similar to the Japanese patterns – if you compare mine with theirs I have a different style; they are only similar in that they are both amigurumi patterns for dog breeds.
And thirdly, I have been designing AmiDogs patterns since early 2007. The Japanese books were released in Sep 2008 and Feb 2009. It would take a very special talent to copy patterns from a book over a year before its release!

Please be more cautious before throwing around accusations of plagiarism. I am a designer and these allegations are damaging to my business.
While I was composing this response, Internet Police then left me a second comment on my Jack Russell Terrier post (my post dates from November 25th, 2007), saying I had "copied this pattern from a book" and giving a link to an eBay auction for the book in question. Let's just look at this more closely, in case you aren't yet convinced:
Here's the Jack Russell in the book I allegedly copied from: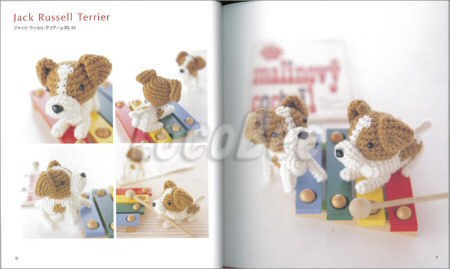 Image copied from eBay auction, taken from this book
And here's my Jack Russell Terrier pattern: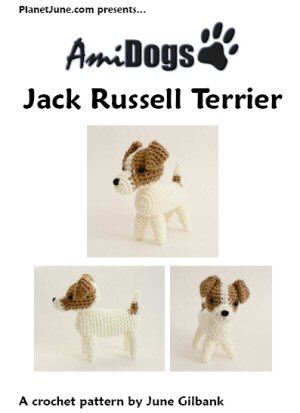 They are clearly not the same pattern (although there are similarities, like the folded ears)
My design was made public in November 2007. The book was released in February 2009. I clearly could not copy a book 15 months before it even existed!
Even if the dates didn't prove my innocence, I would hope that my body of work and my distinctive style would speak for itself! I have integrity: I did not and will never copy another person's design and pass it off as my own. It feels horrible to be unjustly accused, and I hope this post has set the record straight.