I can hardly believe I've been coming up with one design per day for the past few days! I'm exhausted now, so I'm going to slow down for a little while. Here's the latest tiny ami; my little miniature sheep: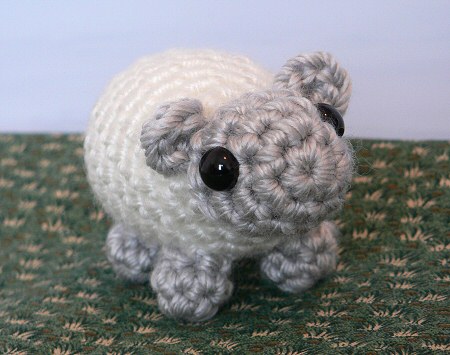 This makes 4 mini designs so far (with the piggy, bunny and mouse). I think I'll make 6 and then release them as two sets of three, unless anyone has any better ideas? Don't worry; they'll be cheap because they are so tiny! I'm still working on the name for the range – thanks for the suggestions so far!
As always, I'd love to hear your ideas for the name or for other designs. If I use your idea for the name, I'll give you some free mini patterns for your trouble! You have until I've made the 6th to send me your ideas, either by comment or e-mail 🙂
UPDATE: Looking for the pattern? You can find the PocketAmi Set 2 crochet pattern in my shop.