Yesterday's amigurumi piglet needed a friend. Here is the smallest, simplest bunny I could dream up: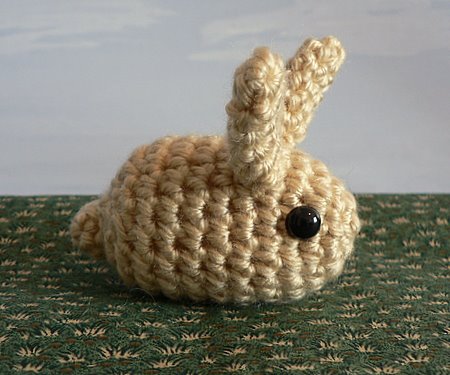 If you're interested, there will be patterns for the pig and the bunny – sign up for my mailing list if you'd like to know when they are available 🙂
And now I have a question for you. I could keep designing these simple tiny ami for just about every variety of animal out there. They are a joy to make because they are so small and easy to whip up. Would you like to see some more (a whole new mini pattern range), or is two enough? Help me to decide!
PS – Catherine Andrews: please contact me with an alternate e-mail address. I keep getting a delivery failure when I try to send your patterns to the e-mail address you use for PayPal!
UPDATE: Looking for the pattern? You can find the PocketAmi Set 2 crochet pattern in my shop.