I can hardly believe I've finally reached this point – this has probably been my longest crochet design process to date – so I'm very happy to present to you my first patterns of 2012: Succulent Collections 1 & 2!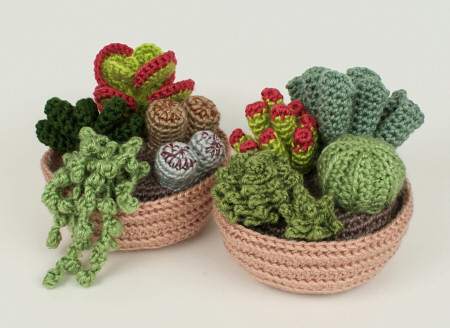 I spent weeks (during my break from designing in December) researching all the different types of succulents to try to find a selection that would look interesting and varied, are fairly common, and would work when translated into crochet. I narrowed it down to 10, to give me a little wiggle room if a couple of them didn't work out the way I was hoping. And here are the final 8:


Succulent Collection 1, L-R: Spoon Jade 'ET Fingers'; Sempervivum 'Hen & Chicks'; Euphorbia Obesa 'Baseball Plant'; Adromischus Cooperi 'Plover Eggs Plant'


Succulent Collection 2, L-R: Gasteria 'Ox Tongue Plant'; Senecio Rowleyanus 'String of Pearls'; Lithops 'Living Stones'; Kalanchoe Luciae 'Flapjack Plant'
While I didn't know this at the time I began my succulent project, I learned through my research that while cacti are a type of succulent, cacti come from the Americas, but other succulents come from Africa. And, beyond that, it turns out that 7 of the 8 species I ended up making are actually native to South Africa – such a coincidence! I had no idea, although I do see succulents all over the place here; it makes sense to have water-retaining plants in a predominantly hot dry environment.
I've come up with all kinds of new crochet tricks and techniques for these patterns, and, as always, they are explained in fully illustrated detail in the patterns, so you can feel confident about tackling these even if you've only made very simple amigurumi before. As with the cacti, each Succulent Collection is available separately for $8, or you can get the second collection for almost half price when you buy both together for the ridiculously low price of $12.50.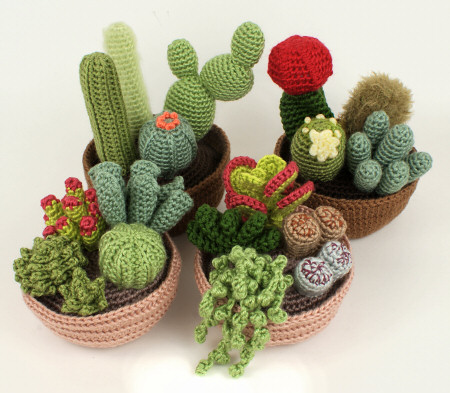 Click through to see the super-sized version at Flickr 🙂
Back L-R: Cactus Collection 2, Cactus Collection 1
Front L-R: Succulent Collection 1, Succulent Collection 2
Just to make things even more exciting, as you can see from the picture above, I've made the Succulents on the same scale as my Cactus Collections 1 & 2, so now you can mix-and-match between all 4 plant collections to make a completely customized cactus/succulent garden, or a cute selection of mini pots with individual plants! (Or even a mini jungle like mine!)
Handy links to the patterns:
Succulent Collections 1 & 2
Succulent Collection 1
Succulent Collection 2
Cactus Collections 1 & 2
Cactus Collection 1
Cactus Collection 2
And, in a case of excellent timing, the PlanetJune February CAL will be a Plant-Along, so please join us at the PlanetJune Ravelry group if you'd like to participate in the crochet-along and make succulents and cacti (and any of my other plant patterns) with the rest of the group! The CAL officially starts on Feb 1st, but if you want to pick up the patterns now and get a head start, I won't tell 😉
I've spent a huge amount of time making these succulent patterns into something special, so I really hope you'll enjoy them! Please let me know what you think of them…