Today is Maui's birthday! As the most important member of our household, and to celebrate his bravery at coping with a hugely traumatic trans-continental move last year, I wanted to get him an extra-special present. Unfortunately, the pet shops here are lucky to have a ball and a mouse as their cat toy selection, and Maui already has loads of each of those.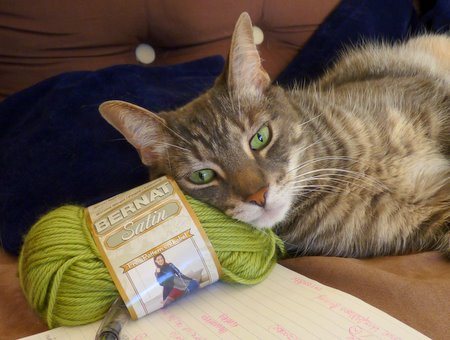 Maui also likes to supervise when I'm designing – here he makes sure that my yarn ball doesn't get away from me while I crochet succulents…
The balls I crocheted for my Yarn Over vs Yarn Under comparison had a dual purpose – I added some catnip as I stuffed them, so they could double up as new toys for Maui.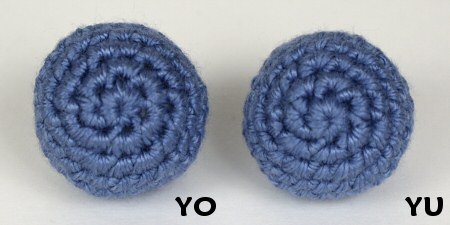 Maui won't care if I crocheted these with YO or YU, as long as there's catnip inside!
But that wasn't good enough – he already has crocheted balls to play with, and I wanted to give him a really special treat. So I put on my creative thinking cap and the result was pretty amazing – I think I may have created the best cat toy ever! It turned my 8-years-young lazypuss into a kitten again, and held his attention for far longer than any store-bought toy has.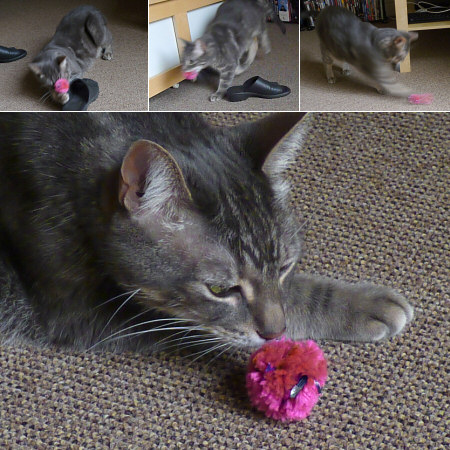 If you have, or know, a cat, and you like to craft, you must try this. It's really easy, it only takes 5 minutes, you'll have a valid excuse for eating chocolates while you craft, and you'll have the happiest cat in the neighbourhood! The foil makes an irresistible crinkly noise when the ball is played with.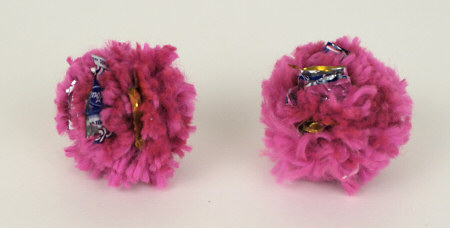 The ball on the right has been thoroughly quality-tested by Maui, and after half an hour of kitty football, stalking, pouncing and batting, being carried by mouth, dropped into shoes and being fished out again, you can see that it hasn't fallen apart at all!
Note: this is my first donationware craft tutorial. As I've had requests for PDFs of other tutorials, I'll also be converting some of my older tutorials to donationware, as I find the time, so there'll be a handy printable option for them too. As always with my donationware, the full tutorial is available online for free, whether or not you choose to pay for the PDF version!