If you have, or know, a cat, and you like to craft, you must try making one of these cat toys. It's really easy, it only takes 5 minutes, you'll have a valid excuse for eating chocolates while you craft, and you'll have the happiest cat in the neighbourhood!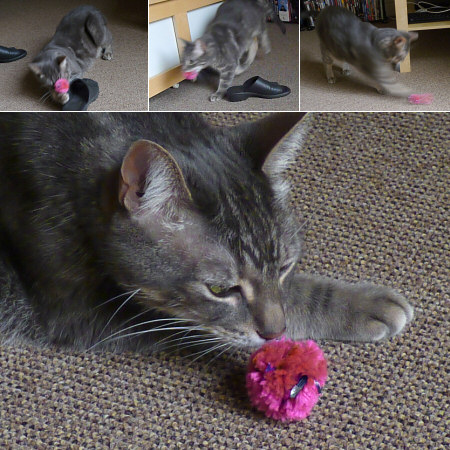 This tutorial is Donationware – the instructions are available for free, but if you like it please consider sending me a donation to show your appreciation: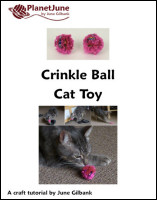 Send me a donation and receive the easy-to-print PDF version of the tutorial as a thank you!
Donations of any size are much appreciated. Just add the amount you wish to donate, and, once you have checked out and paid, your PDF will instantly be available to download from your PlanetJune account.
The complete instructions are available below, regardless of whether or not you choose to pay for them 🙂
This is a PlanetJune original tutorial. Please do not share or reproduce this tutorial; instead post a link to www.planetjune.com/crinkleball
You will need:
Yarn (worsted weight or lighter)
Chocolate or candy wrappers, or similar*
Pom-pom maker (I use my favourite Clover pom-pom makers, but you can adapt the technique for any brand)
Dental floss
Small, sharp scissors
*Note about the ideal wrappers: cats love crinkly noises, and the metallized plastic (plastic foil) that lots of chocolates are individually packaged in these days are perfect for making that crinkly noise when they get scrunched up. The type of wrapper you're looking for looks shiny like tinsel, scrunches up easily (and noisily), but doesn't scrunch into a tight ball when you crumple it up (e.g. Fererro Rocher gold foil is NOT what you need here – unfortunately!) – see below.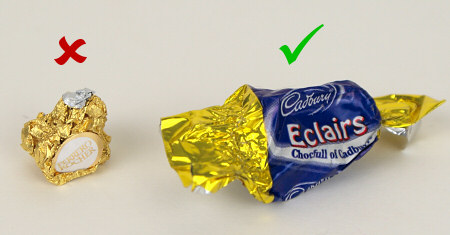 I used Cadbury's Chocolate Eclair wrappers – such a hardship!
Prepare the Foil
You'll need 4 pieces of foil per cat toy. For a small pom-pom like mine (35mm), you'll probably only need one chocolate wrapper, but if your pom-pom maker is larger, or your wrappers are smaller, you may need 2 or 4 wrappers per toy. You may also want to add additional pieces of foil if you're making a larger pom-pom.
1. Check the diameter of your pom-pom maker. Trim your foil to be the same width as your pom-pom. (By coincidence, my wrappers were 70mm wide, so I could make 2 strips from each wrapper by cutting it in half.)


w = width of pom-pom
2. Cut the foil into strips about 1″ (2.5-3cm) tall. The exact height doesn't matter – I just cut my wrappers in half.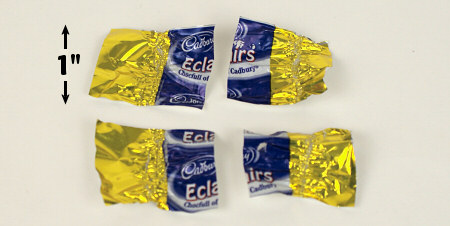 Assemble the Pom-Pom
These specific instructions relate to my Clover pom-pom maker, but you can adapt the technique if you use a different brand.
3. Lay one strip of foil across the middle of the pom-pom maker. Pinch it a bit in the middle so it fits inside the curve (below, left). The two foil ends should just about meet at the bottom of the maker.
4. Wrap one layer of yarn tightly over the pom-pom maker, trapping the foil flat against the maker and compressing it with the yarn as you go (below, right).

5. Lay a second piece of foil over the middle of the pom-pom maker, on top of the yarn (below, left).
6. Wrap another layer of yarn tightly over the maker, again covering and compressing the foil (below, right). You want to fit as many wraps of yarn into the maker as possible, to make a nice full pom-pom.

7. Repeat steps 3-6 for the second half of the pom-pom maker (below, left).
8. Snip through the yarn with small, sharp scissors, as directed in your pom-pom maker instructions (below, right). If your foil has overlapped the cutting line, just snip through that too – it's a cat toy; you don't need to be too neat and careful with it!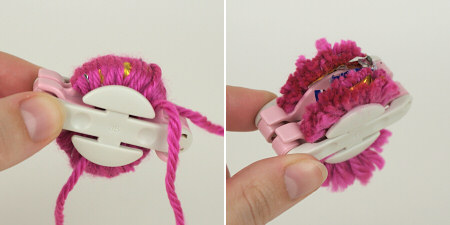 9. Cut a length of dental floss, and tie the pom-pom together as tightly as possible with a secure knot (below, left). Wrap the ends around the the other side of the pom-pom, and tie a second tight, secure knot. Cats are not gentle with their toys and you don't want the pom-pom to fall apart!
10. Remove the pom-pom maker (below, right). Trim the ends of the dental floss and any overly-long yarn ends and roll the pom-pom in your hands to hide the seam and the floss.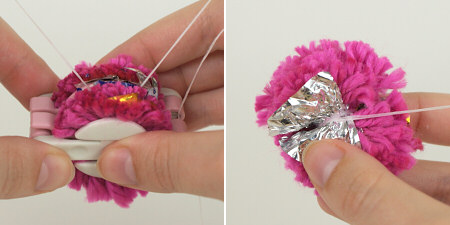 11. Prepare to have a very happy feline! The foil makes an irresistible crinkly noise when the ball is played with.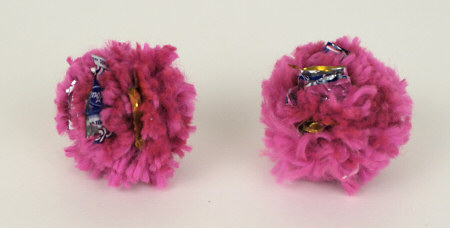 The ball on the right has been thoroughly quality-tested by Maui, and after half an hour of kitty football, stalking, pouncing and batting, being carried by mouth, dropped into shoes and being fished out again, you can see that it hasn't fallen apart at all!
I hope you enjoyed this tutorial! Please leave me a comment if you did, and consider leaving me a donation. Thanks!
And if you're up for the challenge, please add an action shot of your cat(s) enjoying their new toys to the PlanetJune Tutorials flickr group 🙂