A few months ago, I had a very clever request from a customer, to design a large adult version of the turtle from my Baby Sea Turtle Collection pattern. It was such a good idea – my AquaAmi Sea Turtle pattern is an epic amigurumi showstopper, but all those shell pieces take forever to crochet – wouldn't you like to make a simpler large sea turtle?
So here it is, a Simple-Shell Sea Turtle expansion pack (below, right) for my AquaAmi Sea Turtle (below, left):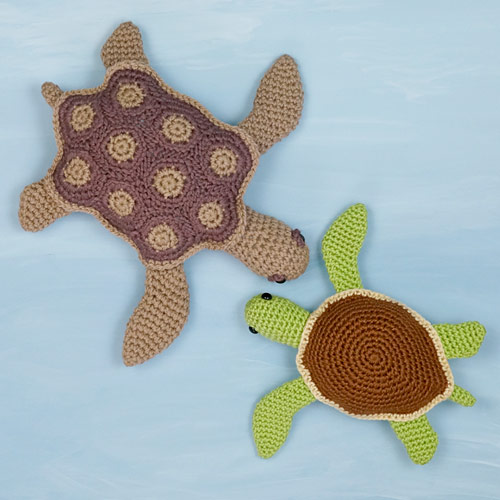 Note about size: The turtles in the above photo are different sizes because the original Sea Turtle is crocheted with bulky yarn and a G7 hook; the expansion pack is crocheted with worsted weight yarn and an E hook. You can crochet either turtle in either size (details in the patterns); if you use the same yarn and hook for both, the finished turtles will be the same size!
As you can see, both turtles have the same realistic shaping and flippers, but the new pattern gives you a simple but cleverly-shaped shell instead of the beautifully-patterned but time-consuming original shell. With only two shell pieces to crochet instead of twenty, you'll save a lot of time!
About the Pattern
This Expansion Pack gives a simplified shell for my large AquaAmi Sea Turtle. The result gives an 'adult' sized turtle (about 9.5″/24cm long when made in worsted weight yarn) that matches my Baby Sea Turtle pattern (sold separately).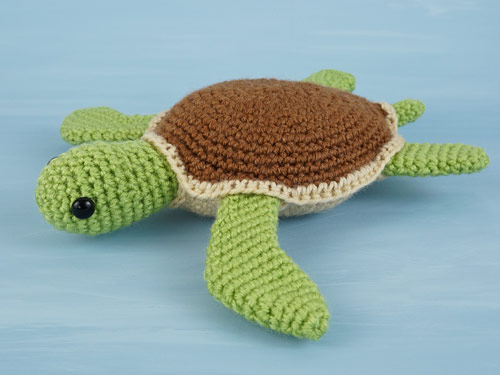 It includes all the modifications required to crochet a Sea Turtle much more quickly than the original AquaAmi Sea Turtle, with simple but well-shaped one-piece top and bottom shells.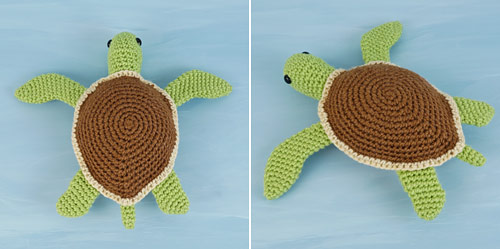 And, if you're making a turtle blanket as a gift, now you can add a larger matching cuddly turtle toy to go with it!
What is an Expansion Pack?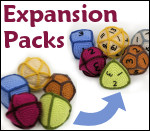 An Expansion Pack is an add-on to an existing PlanetJune pattern.
The Expansion Pack lets you modify or add to the original pattern to create something else.
You cannot use the Expansion Pack alone – you must also purchase the original pattern in order to be able to complete the pictured items in the Expansion Pack pattern.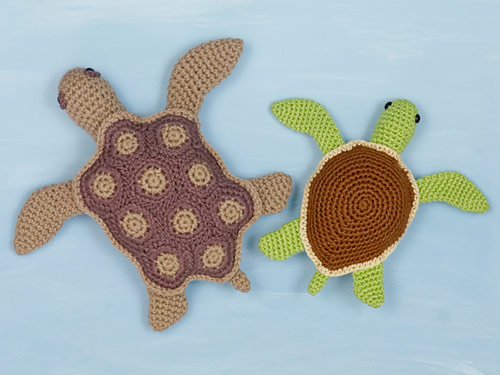 You can buy the Simple-Shell Sea Turtle Expansion Pack for only $3.50 individually from the shop, or, if you haven't yet bought the original AquaAmi Sea Turtle pattern, you can buy the multipack of both turtles, and save 50c on the pair.
Launch Discount
If you've already bought the original turtle pattern, you won't be able to save that 50c. But, for 7 days only, add the Simple-Shell Sea Turtle Expansion Pack pattern to your shopping cart, together with anything else (totalling $5 or more), then use the code MORETURTLES at checkout and you'll still get your discount! (Valid until next Tuesday: 13th March 2018.)
Note: If you don't need anything else right now, this also applies to Gift Certificate purchases, so you can pick up a $5 gift certificate now, get your discount, and have $5 in your PlanetJune account ready for your next purchase, or to send to a crocheting friend!
---
PlanetJune Sea Turtle Patterns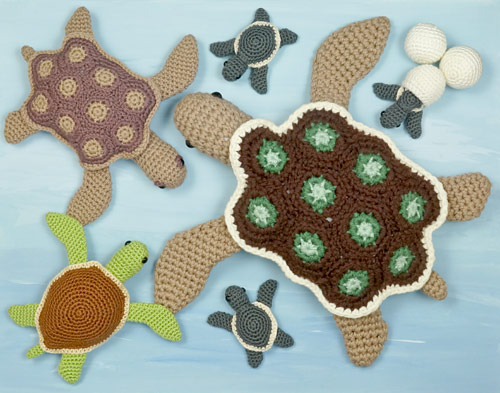 This new addition means I now have three different sea turtle patterns, letting you make all the different options above (and even more if you resize all the patterns) – but they all match nicely, so you can build a sea turtle family with as many of the different pattern options as you wish!
In case you're confused about which pattern makes which turtle, here's the rundown of all the PlanetJune sea turtle patterns – and yes, it's turtles all the way down…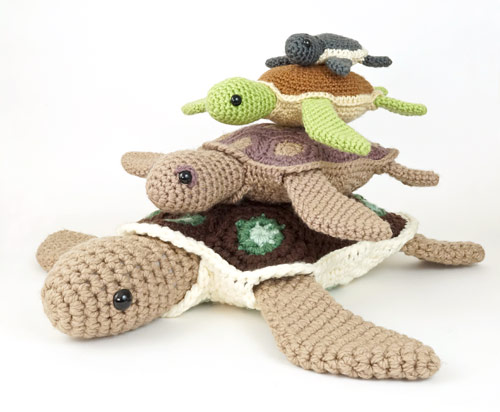 A note about sizes:
The top two pictured turtles were both made with worsted weight yarn. If you use only worsted weight yarn, these are the two turtle sizes you'll make with my patterns: approx 4.5-5″ long for the babies, and 9.5″ long for any of my adult turtle patterns.
But you can choose to make a variety of turtle sizes: the third turtle down is made with bulky weight yarn, increasing the adult turtle length to 11″, and the giant 18″ long turtle at the bottom was crocheted with the same pattern, but two strands of bulky weight. The difference in size between the green turtle and the giant turtle is caused solely by the yarn and hook choices!
Read more about how to resize amigurumi by changing the hook and yarn sizes here.
---
If you're not ready to make – or add to – your Turtle family just yet, don't forget to heart and queue them on Ravelry so you don't forget about them:
AquaAmi Sea Turtle (original): 
Simple-Shell Sea Turtle (new):
Baby Sea Turtle Collection:
I'm so happy with this new addition to my sea turtle collection – I feel like I have a turtle for every occasion now!