I've been waiting for days for the clouds to clear so I have decent lighting for my photos, but it looks like that's not going to happen any time soon – and can you believe we have a few inches of snow already?! Seems like winter has come early this year.
My giant sea turtle is finished – yay! He is waaay too big to fit inside my light tent, so it's been quite a challenge to get these photos for you, but here he is in all his massive glory: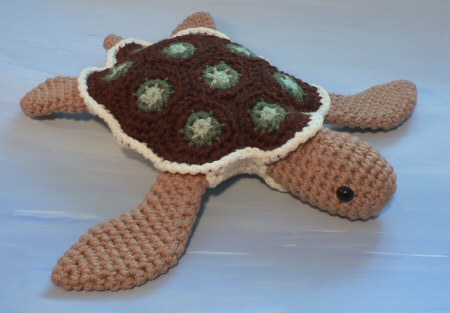 You can't really tell from the pictures, but he's seriously large: 18″ (46cm) long from nose to tail, with an immense 21″ (54cm) flipper-span! Here's his pale belly, with subtle pale green hexagonal patterning: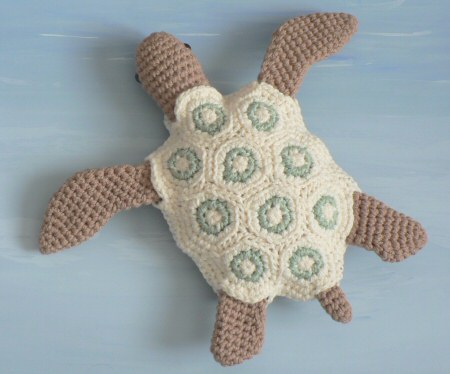 And meeting the standard-sized sea turtle: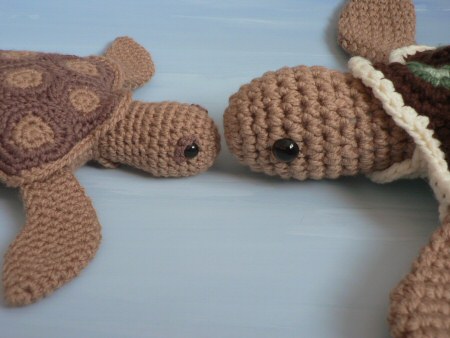 Yep, who'd have thought… this sea turtle makes Great A'tuin the world turtle look like a little baby!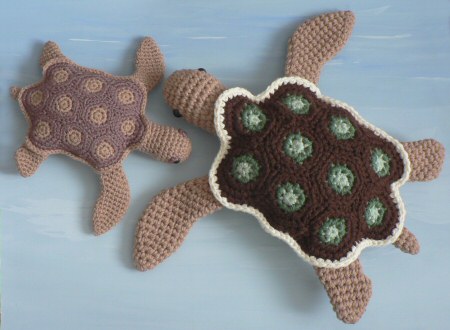 He's made with 2 strands of Bernat Softee Chunky yarn held together, and a size L (8mm!) hook, but aside from that and a few additional colour changes (5 colours instead of 2) he's made following the AquaAmi Sea Turtle pattern instructions exactly.
Now my only problem is where to keep a giant turtle?! One thing's for sure – he's not going to fit on my toy shelves…