It may seem early to some, but I know for a fact that some of you are already preparing for the holiday season. So with that in mind, I've created another seasonal set of PocketAmi, with a Christmas theme!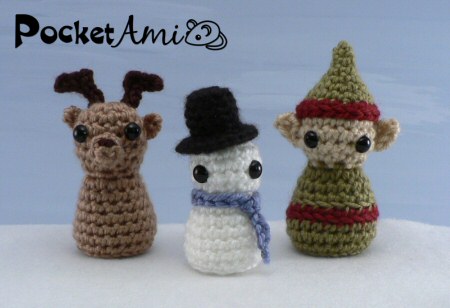 This time around, we have a tiny Snowman, a Christmas Elf, and a Reindeer for your crocheting pleasure. As with all the PocketAmi patterns, they are all under 3″ tall and super quick to crochet. The added bonus of this set is that, by adding a loop of yarn to the back of their heads, you have instant cute tree decorations!
PocketAmi Set 4: Christmas is now available in the PlanetJune shop for the bargain price of $5, and includes the patterns for all 3 seasonal ami.