If I met you at the show yesterday, hello again, and welcome to PlanetJune.com! Don't forget to check out my crochet tutorials if you need some help with techniques. I'll be posting the Crochet Basics tutorials from my class notes up here in the next few days too.
I taught my crochet class yesterday at the Creativ Festival – my first experience of trying to teach more than one person at once. And it was a trial by fire: I had 20 students, and most had never crocheted before! Luckily I had prepared some step-by-step photo tutorials to show the basic crochet stitches, which helped a lot, as 20 people can't all watch my hands at once as I demonstrate. My students were all lovely and very understanding as I ran around the room answering questions and helping where needed. It was a short class – only an hour and a half – so only a few students actually finished their toys in class, but I think by the end everyone understood the techniques well enough to complete their PocketAmi Bunny or Mouse toys (and they know to e-mail me if they have any difficulties)!
I spent the rest of the day at the A Needle Pulling Thread magazine booth (and Carla: thank you again for giving me this opportunity). My table looked similar to last time, but with some improvements (clipboard for mailing list sign-ups, business card holders, and cute postcard sets for sale). Here's me at my display: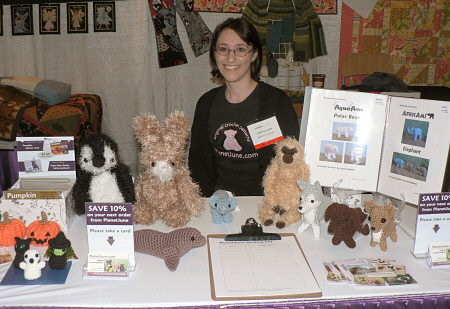 That white rectangle on my shirt is my super-large instructor's badge
The seasonal corner (bottom left of pic) got a lot of attention. The pumpkins are the perfect size to fit in a hand, so everyone picked them up and gave them a squeeze! I'd sewn the three Halloween PocketAmi to a decorative cardboard base so they wouldn't fall over or get lost, and that worked well.
Immediately after this photo was taken, just before the show opened to the public, my much-thicker-than-last-time portfolio/catalogue slid off its easel because it was too heavy to balance there. It turned out to be serendipitous though – laying the catalogue down flat on the table encouraged more people to flip through it. My new business card holders and signs did their job perfectly, and I gave out about 150 cards, so I'm hoping for some more business in the coming weeks.
In the (rare) downtime at the booth, I started a new project. I'm doubling my bulky weight yarn and using a huge L hook to make a giant version of my sea turtle. I got as far as making the shell top yesterday. For comparison, here's a pic of the shell top next to the original sea turtle: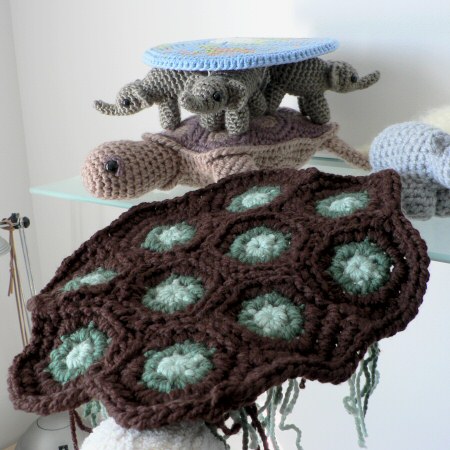 It's already about 12″ long and that's without the shell edging or the head and tail, so that's at least half as large again as the original turtle. I can't wait to see what the finished giant turtle will look like!
The one disappointment of the day was that I didn't have a chance to check out all the other booths. There was a whole papercraft supplies area that I didn't even see (missing out on some new inspiration for Folding Trees), and I'd hoped to get some more needlefelting supplies from the Bears and Bedtime booth. But I did get to meet some alpacas! They seemed unperturbed at spending a whole day in the busy convention centre: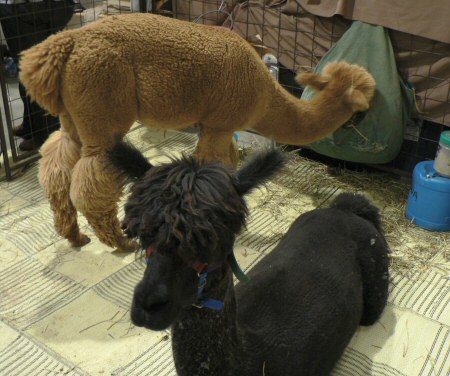 And I treated myself to a set of ergonomic crochet hooks from Eleggant Hooks. Long-time readers will know of my hand pain problems, so I'll be very interested to see how these work out for me – I'll report back when I've tested them out!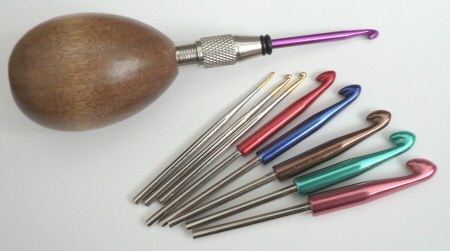 All told, it was a huge success for me, although it was a veeery long day including the drive from Waterloo to Toronto and back. But I'm very happy I went and got to meet so many great people, and I'm already wondering if I should apply to teach again at next spring's show…