Let's get this out of the way first: I received a copy of this book to review. But I'm not being compensated for this review in any other way, and the following is based on my honest opinions!
Carina and I have been friends since we first met (online) in our early days of craft blogging, over a decade ago! She's well-known for her distinctive cheerful and colourful embroidery designs and has authored 3 books as well as a shopful of self-published designs (you can find them all at Polka & Bloom).
Ever since Carina mentioned that she was designing a book of mandalas, I've been waiting to see what she came up with, and I wasn't disappointed! Embroidery, like other slow crafts, can be a calm relaxing hobby, and combining that with repeating mandala patterns sounds like a perfect recipe for slowing down and enjoying some crafting time.
Read on for my review, and to see the gorgeous embroidery I've made from one of the book patterns…
Overview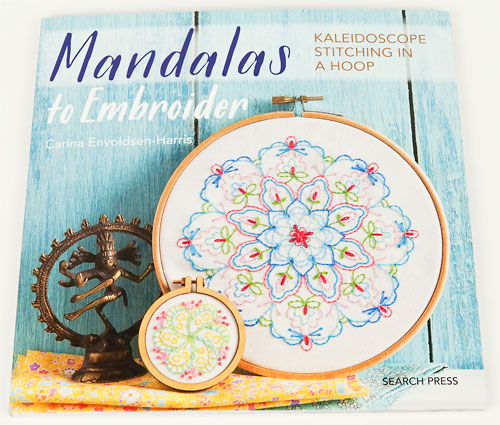 Mandalas to Embroider: Kaleidoscope Stitching in a Hoop by Carina Envoldsen-Harris is a book of circular embroidery patterns. As Carina says in her introduction:
Mandala is the Sanskrit word for 'circle'. These days, it is often used as a generic term for a particular motif, especially in arts and crafts, usually with a concentric design or one which radiates from the centre.
Mandalas to Embroider includes 12 large and 12 small delicate repeating patterns. Nature-based, geometric, or more abstract, the designs are all bold, happy, and – of course! – colourful. The circular nature of the patterns means they fit perfectly in an embroidery hoop, making the finished pieces easy to display.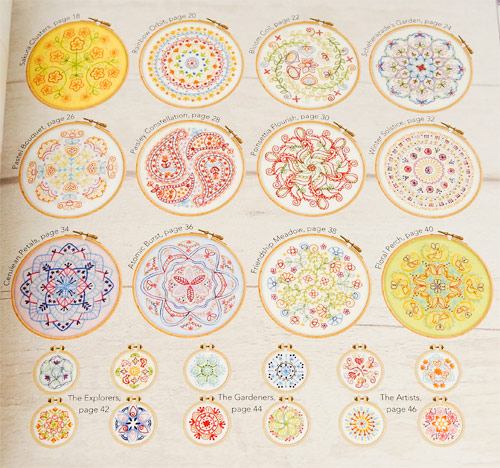 Such pretty and colourful designs!
The book is split into two halves: the first half includes clearly-illustrated stitch tutorials, instructions for preparing and finishing your work, and all the patterns, with colour palettes and stitching suggestions.
The pages of the second half are actually iron-on transfers for each of the patterns. Each page is perforated so it can be removed neatly, and there's a handy pocket inside the back cover to store any transfers you've already used. I thought this was a really nice touch, as each transfer can be used up to ten times, so you'll be able to keep the transfer pages together with the book, so they're ready for the next time you want to use them.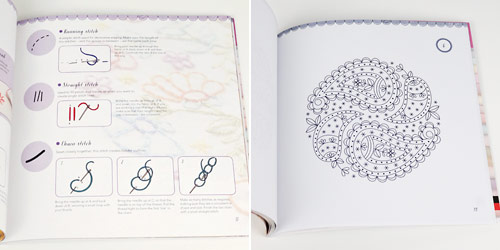 Left: stitch tutorials; Right: iron-on transfer
This book is beautifully styled and photographed, and I couldn't stop paging through again and again to admire the variety of mandala-inspired patterns.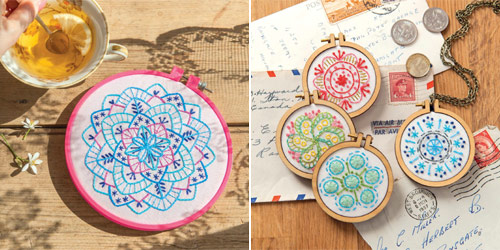 A couple of the lovely photos
My Experience
Although Mandalas to Embroider includes 12 mini designs, I decided to jump right into one of the 12 full-sized designs. Sakura Clusters was an obvious choice for me, as I love cherry blossoms (I even designed a cherry blossom garland for my first book, Paper Chains and Garlands!) and this design was the first that really caught my eye as I flipped through the book: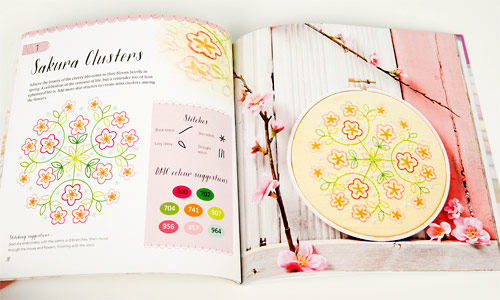 I decided to see how the design would look in a colour scheme inspired by real-life cherry blossom instead of Carina's cheerful bright palette. That's one of the advantages of embroidery (or crochet!) patterns – it's so easy to make them your own by simply changing the colours. I shopped for floss colours using the pinks, reds and blue from this beautiful reference photo: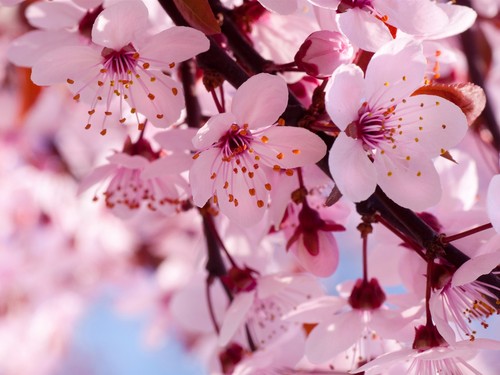 I was unable to find anyone to credit this stunning photo to – if you're the photographer, let me know!
I raided my fabric stash and the only off-white fabric I could find looked a bit thin, so I used two layers to stop the threads on the back of the piece from showing through on the front. (I wasn't sure if that was going to work, but my stitches didn't show through the fabric, so I suppose it did!)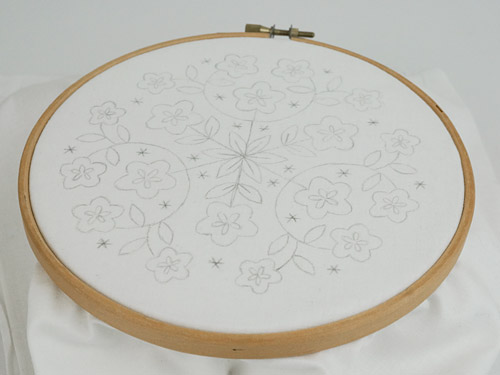 I wanted to make my embroidery a little smaller than the original, so I copied and reduced the pattern page, then traced the design onto my fabric with a pencil. If you use the iron-on transfers, you can skip all that and be ready to start embroidering right away!
I must admit to being a little nervous about starting stitching; although I've been cross-stitching for decades, and of course enjoy my punchneedle embroidery, I haven't actually done any regular embroidery since I learnt the basic stitches in primary school.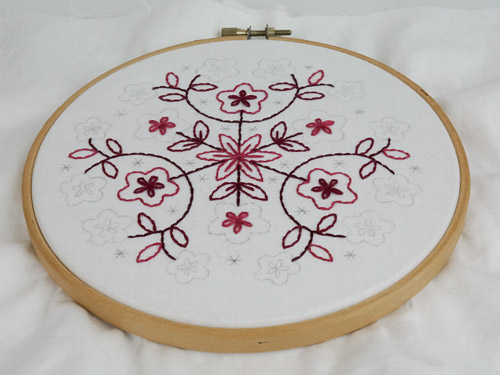 I needn't have worried – the patterns in this book all use fairly simple stitches, which are clearly explained at the start of the book. Although I started slowly, I quickly picked up speed. By the end of the project, I felt very confident with the stitches used in this pattern, and I'm ready to learn some of the other stitches for my next embroidery project!
Look, even the back of the embroidery is quite pretty…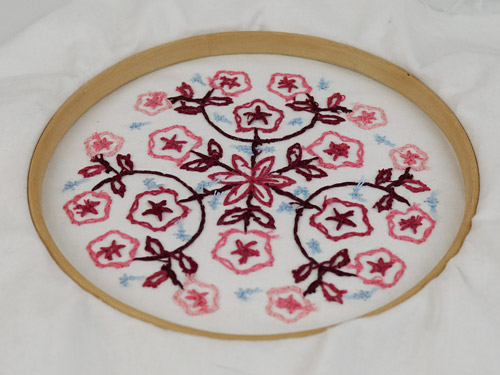 And now for the big reveal: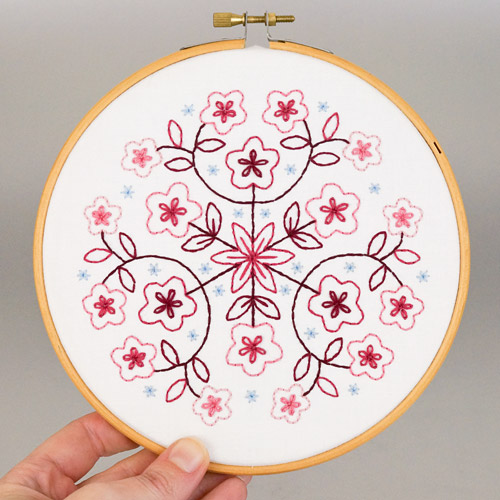 Isn't it lovely? In my colour palette, the pattern takes on a more serene look, but Carina's pretty design still shines through. I'm thrilled with my embroidery, and I'll be very happy to display this finished piece on the wall of my craft room.
Final Thoughts
Carina's designs always have a hand-drawn quality to them, and I was impressed to see that she's managed to maintain that even with the repeating patterns in Mandalas to Embroider. There's still a free, natural quality to the designs. I noticed while I was stitching the flowers that the petals of each flower aren't perfectly identical. This is a good thing – the relaxed nature of the design felt like permission to be relaxed in the execution – there's no need to make every stitch exactly even and perfect to get a beautiful result.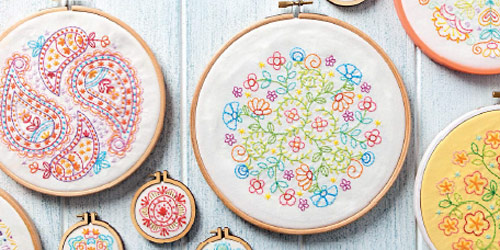 If you've never tried embroidery, I'd definitely encourage you to give it a try – I found it very relaxing and satisfying to watch the design come together. And I think Mandalas to Embroider is a perfect introduction to embroidery, as you can build your confidence by practicing your stitching on the smaller patterns, or do as I did and jump right into a large one!