Sometimes a project is so simple that it seems like cheating! I'd planned to sew a cover for this new body pillow once I had time to buy fabric and set up my sewing machine, but then I spotted a fleece blanket in the dollar store with a convenient blanket-stitched border…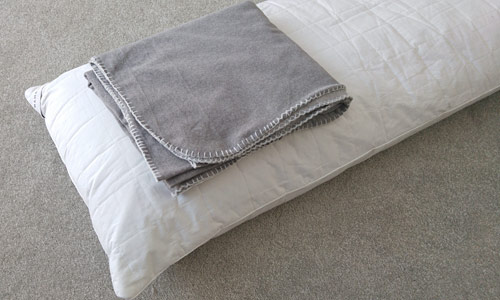 I draped it around my pillow, and it was almost exactly the right size to make a soft and snuggly cover (surely a sign that this project was meant to be).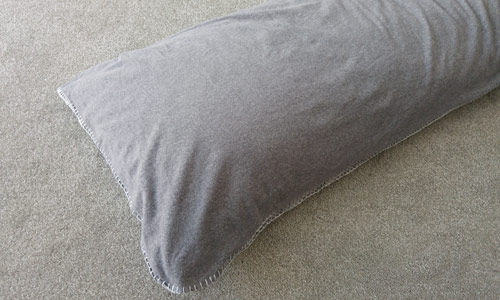 In case you don't know, adding a border of blanket stitches around the edge of any fabric project makes the perfect set-up row for a crocheted trim – you can just insert your hook under the edge of each blanket stitch to begin each stitch of the first row: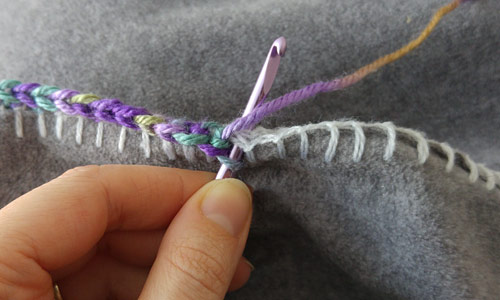 Top tip:
If you'd like to add a crocheted trim to
any
fabric item, just use a sharp needle and crochet thread, embroidery floss or fine yarn to blanket stitch around the edges of the fabric first, and then you can add any crochet border you want, by crocheting into the blanket stitches.
(And if you need some ideas for border stitch patterns, I can recommend Edie Eckman's two books on just that topic!)
I'd loved this Red Heart Soft yarn in shade Watercolors in the ball, but soon realised when I tried to crochet with it that every stitch turned out as a different colour, which made the result way too busy for anything I'd wear. But this project has just a single row of crochet, so the different colours can shine without being buried by the next row. I did try out a few more interesting stitch patterns for my edging, but the constantly-changing colour is interesting enough – why over-complicate things?!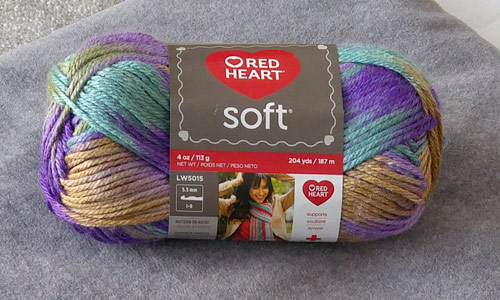 I tested a variety of hooks with my yarn and the blanket stitches, and determined that anything larger than a G (4mm) was too big to fit easily under the blanket stitches, so I went with the G. I folded the blanket in half and, starting at one end of the fold, began to single crochet around, inserting my hook under the blanket stitch at the edge of both layers of fabric to begin each stitch.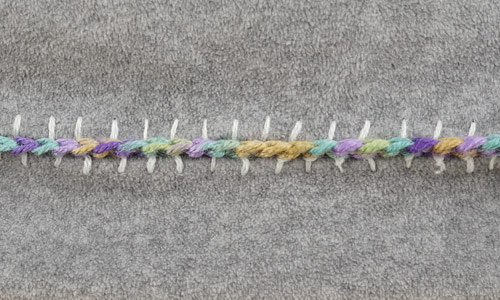 Top tip:
I was worried that the two halves may not stay aligned as I continued to crochet around, so I grabbed my
Wonder Clips
(highly recommended for any crafters, especially to replace pins when you sew – and if you crochet or knit you can also buy them in an
extra-large size
to keep your pieces together when seaming). I matched the corners and clipped them together, added a clip halfway between them, and then kept adding more clips halfway between the previous ones until I had a clip every few inches.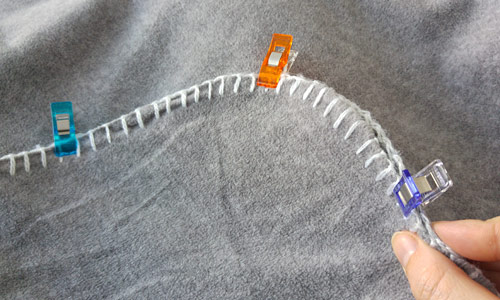 As I crocheted around the edge, I added a few extra stitches around the curved corners, and anywhere the blanket stitches seemed spaced a little too far apart for one single crochet stitch to be large enough to get to the next stitch without being stretched too far.
Once I got to the second open corner, I inserted the pillow, and then crocheted along the last open short edge to close the remaining gap. I fastened off, leaving an extra-long yarn end which I ran underneath all the stitches on the short edge, so I can easily retrieve the end and unravel some stitches if I need to remove the pillow to wash the cover, and then crochet it back up afterwards.
And here's the end result – simple, but effective: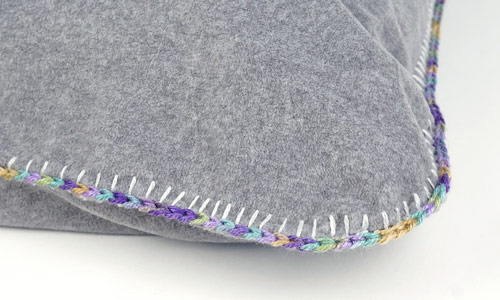 I think this project was a perfect use for my yarn and adds a touch of colour to a basic cushion cover (especially in a variegated yarn which does all the work for you).
If I'd started making the cover from scratch instead of using a pre-made blanket, I'd have done 2 things differently:
Cut 2 rectangles of fleece instead of one large piece, so I'd have a crocheted border around all 4 sides of the cushion
Made the blanket stitches in a different colour, to either blend in with the fleece, or co-ordinate with the yarn
But, overall, I'm very happy with this project – definitely half an hour well spent!
---
How about you? Have you ever considered adding a crocheted border to a fabric project?
I've always liked the idea of crocheting a trim around the bottom edge of a skirt – maybe this will inspire me to make it happen next summer 🙂