When I decided to learn to knit by making a dozen self-designed sweaters, I didn't really think I'd ever reach this point – surely I'd lose interest in knitting such time-consuming pieces before I'd completed 12 sweaters?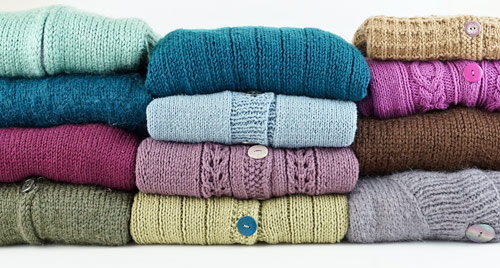 Apparently not! Shall we take a look at them all properly?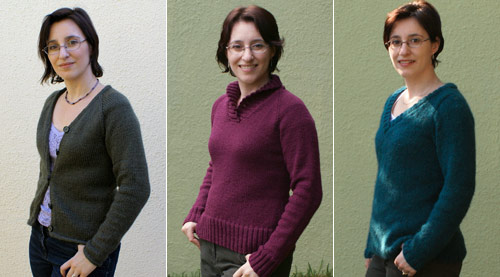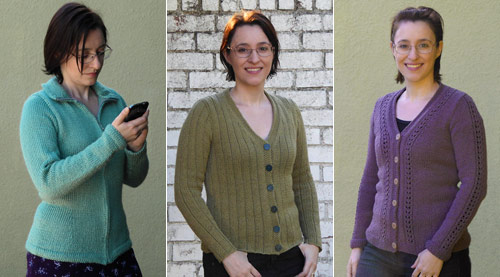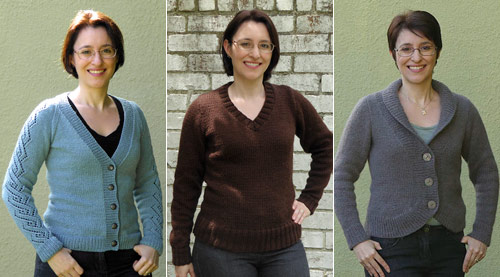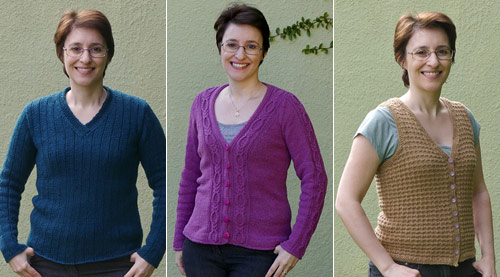 (Find details of each sweater project in its own post, here.)
Project Stats
I started my first sweater in June 2012, and knitted the final stitch on my 12th sweater in June 2017. So that's 12 sweaters in 60 months, or an average completion time of 5 months per sweater.
I was very surprised to discover I've been working on this project for 5 whole years, but then, I'm busy with work a lot of the time, and summers in Africa aren't very conducive to knitting sweaters, so maybe it's not so surprising!
Techniques I've Learnt
This project has helped me learn a huge number of knitting techniques. And, while there's still much, much more I can learn, I'm almost comfortable calling myself a knitter now without feeling like a fraud.
I've made sweaters from the top down and bottom up, seamed and seamless, flat and in the round, with raglan and set-in sleeves, and sleeveless.
I've made cardigans and pullovers and a vest.
I've tried lace and cabling, ribbing and all-over texture.
I've used provisional and cable cast-ons, directional increases and decreases, mattress stitch, kitchener stitch and 3-needle bind-offs.
I've used short rows and turned hems, attached i-cord and picked-up stitches.
I've made buttonholes and inserted a zip.
I've learnt how to reliably make a sweater that will fit me, in a range of yarn weights and fibres.
Final Thoughts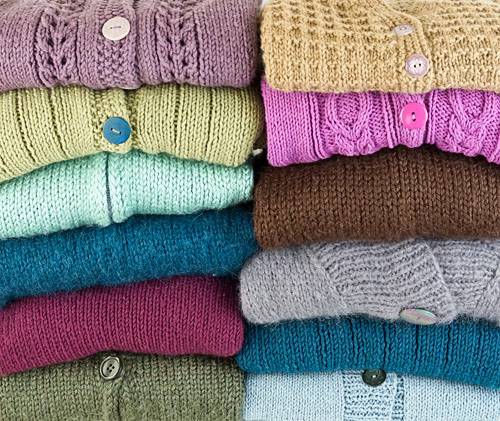 I feel quite proud, seeing the whole dozen together like this. Although they almost all have features I'd change, with hindsight, were I to knit them again, I enjoy wearing all of them. (And I have my notes, so I can always reknit them with a few tweaks once the originals wear out!)
All in all, I'd say I've met my original goal:
I'm teaching myself to knit by making myself a dozen self-designed sweaters, and learning new techniques with each one I make. I'm hoping that, by the end of this journey, I'll be a real knitter and not have to survive on guesswork!
It's time to own it: I am a real knitter.
What's Next?
Now I've completed my mission, I don't have any plans to stop knitting sweaters for myself – it's become a long-term hobby, and I can't imagine buying a sweater at this point! I've already bought the yarn to make another half dozen – I think we can safely say I'm addicted… 😉
(You might also be wondering if I'm considering selling patterns for my knitwear designs… and I'll save that topic for another post!)