The Fennec Fox might just be one of the cutest animals out there, and it's even cuter in crochet!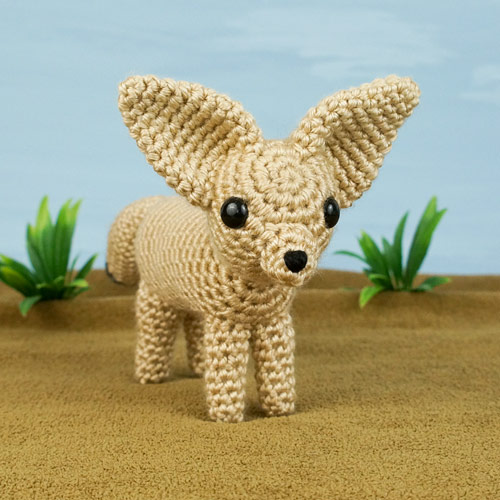 Fennec Fox Fun Facts
Fennec Foxes are the smallest foxes in the world.
They live in the deserts of northern Africa and eat insects, rodents and plants.
Their massive ears stop them from overheating and help them to locate prey underground.
Fennec Foxes live in family groups, in large underground dens which they dig into the sand.
Their paw pads are covered in thick fur to protect them from the desert heat.
They can survive without water, getting all the moisture they need from their food and dew.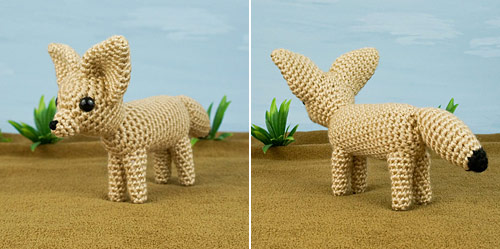 Don't you think this adorable little Fennec Fox is so distinctive with his huge ears, cute little nose and black-tipped tail?
You can buy my Fennec Fox pattern alone, or in a new foxy multipack with his cousins (Red Fox and Arctic Fox):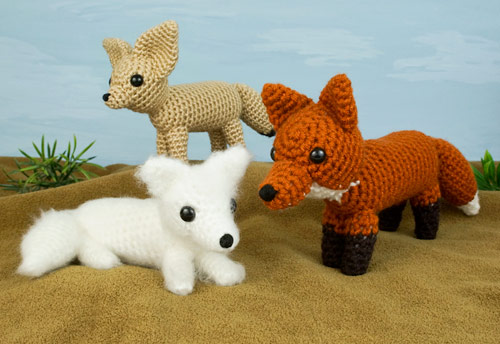 Note: The new 'Three Foxes' multipack replaces the old 'Red Fox & Arctic Fox' deal, so that item is no longer available for purchase. (If you bought it previously, both your fox patterns are still available in your PlanetJune account, of course.)
Special Deal!
I've set up an amazing deal for these foxes: the Multipack is only $11 – that's buy two fox patterns, get the third free!
Note: If you've already bought the Red and/or Arctic Fox, you can still get a deal, for this week only! (Valid until next Tuesday: February 13 2018).
If you've already bought one fox and want the other two, buy the Multipack, email me with your order numbers (or dates) of both your fox orders, and I'll send you a $3 PlanetJune Gift Certificate.
If you've already bought both the other foxes, buy the Fennec Fox, email me with your order number(s) (or date(s)) for all your fox orders, and I'll send you a $3 PlanetJune Gift Certificate.
Or if you only want your favourite fox, you'll find each pattern individually in my shop too 🙂
Handy Links:
I hope you'll enjoy my fox patterns! Which is your favourite?