Link easily to this page in
your patterns
:
www.planetjune.com/stitchtension
Today, I'd like to dispel a common amigurumi myth…
In amigurumi, as with all crochet, you should always be keeping tension on the yarn to keep your stitches compact and regular. But I often hear misinformation that you should be 'crocheting tightly' to make amigurumi, and that's not true at all!
The tightness of amigurumi stitches refers to the tension of the small stiff stitches of the fabric you produce, not to the tension in your hands while you crochet.
Showing is better than telling, so allow me to demonstrate, via a new crochet investigation, how to make perfect amigurumi stitches without hurting your hands!
Experiment 1: Effect of Hook Size
I crocheted the same sample amigurumi cup shape 3 times with different sized hooks and the same worsted weight yarn each time. I crocheted the same way as I would when making a scarf or anything else – I kept my tension even, but didn't try to pull my stitches tightly or pull back on the yarn after pulling up each loop.
I used my standard amigurumi E hook (3.5mm), and, to show the effects of changing hook sizes, I tried a larger H hook (5mm) and a smaller C hook (2.75mm).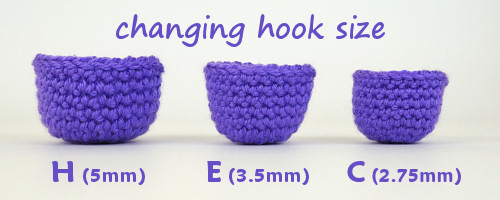 You can see that the stitches are neat and even in all three samples and, as you may expect, using a larger hook results in a larger finished piece that's both taller and wider than the same piece crocheted with a smaller hook.
See how the smaller hook samples can stack inside the larger ones? There's quite a size difference!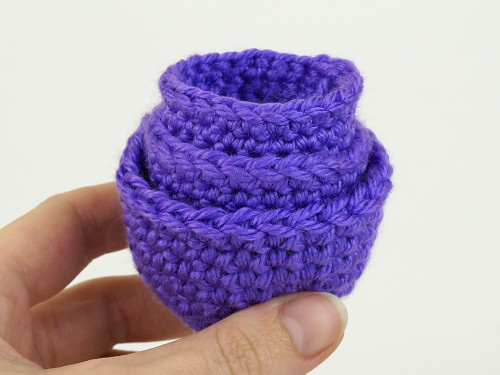 What you can't tell from a photo is how stiff the fabric of each sample is. With the H hook, the fabric is too floppy to hold its shape well. With the E hook, the fabric is much firmer and holds its shape much better. With the C hook, the piece is even firmer and feels very solid.
I simulated the effect of adding stuffing by gently stretching out each piece between my fingers, so you can see the gaps between the stitches:

As you can see, the H hook fabric is far too open for an amigurumi; the gaps between the stitches are very noticeable. With the E hook, the stitches have smaller holes between them, so the stuffing would be far less visible. And, with the C hook, the gaps between stitches are almost invisible.
So here's the result of changing hook size: a smaller hook gives a smaller and firmer crocheted piece, with tighter stitches and smaller gaps between the stitches.
These are the properties we want for amigurumi fabric! A stiff, sturdy fabric that holds its shape and has tiny gaps between the stitches is exactly what we need for crocheting a 3-dimensional sculpture.
Choosing the Right Hook Size
The C hook was the smallest hook I could manage with this specific yarn (Caron Simply Soft, a light worsted weight yarn), and I had to stop and undo a stitch a few times, when my hook hadn't grabbed all the plies of the yarn. I wouldn't recommend using a hook
quite
this small, as it's annoying to have to undo your work whenever you realise you have a snag in your stitches from splitting the yarn with the small hook.
My Recommendation: In practice, with a light worsted weight yarn like this, I might go down to a D hook for the best balance of small, tight stitches and not splitting the yarn as I crochet. For the heavier worsted weight yarns, I still recommend an E hook for most amigurumi.
(See my Worsted Weight Yarn Comparison for more about the differences between different yarns that are all labelled as worsted weight!)
Experiment 2: Effect of 'Crocheting Tightly'
Now, part two of this investigation. I returned to my standard E hook and tried crocheting the same sample piece yet again, but this time I followed the misunderstood advice of 'crocheting tightly'. I held the yarn tightly and pulled back on it against my hook each time I formed a loop, so each loop was tight around the hook and as small as possible.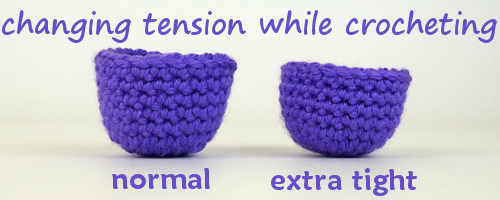 Both these samples were crocheted with the same hook. As you can see, the 'tight' piece is smaller and firmer than the normally-tensioned piece, but at what cost?
When you crochet with too-tight tension, your stitches are so small that it's hard to work back into them, and that's what happened in this case: it was an effort to force my hook into each stitch. My yarn-holding hand began to cramp from pulling the yarn so tightly, and I didn't enjoy the process of crocheting at all. Even finishing this small piece was very hard work.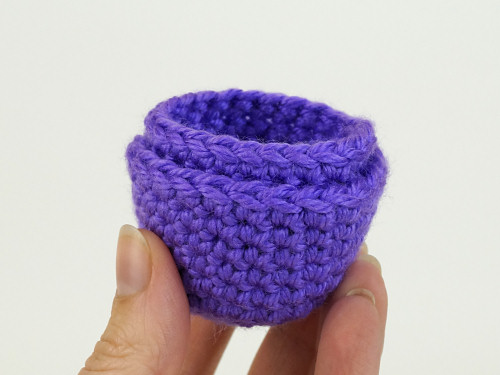 Yes, the tight piece is definitely smaller (and therefore 'better' for amigurumi) but crocheting it was a horrible experience!
The Tension Exception
In amigurumi, chains and slip stitches should
not
be crocheted with your usual tension. These stitches need to be crocheted with an
extra-relaxed tension
(or a larger hook), or they'll be too small to work back into.
See my tutorial Chains and Slip Stitches in Amigurumi for more on this.
Experiment 3: Comparing Smaller Hook and Tighter Tension
Now, let's compare the small (C hook) sample from Experiment 1 with the extra tight tension sample (E hook) from Experiment 2:

Can this be right? They look almost identical!

Yes, comparing the two pieces, they look and feel almost exactly the same – the size and shape are the same, the stiffness of the fabric is the same, the gaps between stitches are the same.
The only difference? The sample on the left was crocheted comfortably with a small hook, and the sample on the right was crocheted extra-tightly, at great discomfort, with a larger hook.
Conclusions
As these experiments have shown, there's absolutely no advantage to changing the way you crochet when you make amigurumi by working extra-tightly (and you may actually hurt your hands, wrists and arms by doing so!)
The goal with amigurumi is to maintain tension (down and backwards) on the yarn that's balanced by your hook pulling up and forwards. This control allows you to form neat, consistent stitches.
You should never feel you have to force your hook into every stitch and/or pull your stitches as tightly as possible. This not only distorts your fabric but can also lead to hand and wrist fatigue and repetitive stress disorders.
The secret to making good-looking amigurumi without making your hands hurt is simple:
Select an appropriately small hook and crochet the same way as you usually do.
The perfect hook for your yarn is the smallest size you can manage without starting to have problems from splitting your yarn because the hook is too small to consistently grab all the plies.
The result: neat tight stitches, with no pain!
If you ever experience discomfort when making amigurumi, I encourage you to relax that death grip on your hook and yarn, and try crocheting with a slightly smaller hook instead. Your hands will love the difference and, I hope, you'll enjoy the amigurumi-making process more.
---
Have you fallen for the amigurumi myth of 'crocheting tightly'? Please leave a message in the comments and share your experiences…
---