Although it may not look like it from the new PlanetJune Accessories collection cover pictures, I had a really hard time getting those photos – it actually took 6 photoshoots to get enough decent photos to release the collection. That's 6 sessions of dressing up nicely and doing my hair and makeup, and 6 sessions of getting strange looks as I posed, feeling like an idiot, in various locations near the river…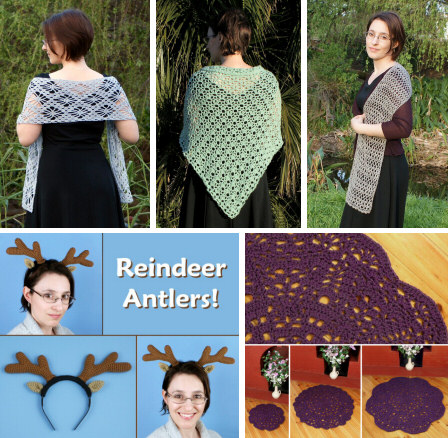 It's spring here, not autumn, and if you look carefully you can see huge palms, giant cacti, and other unusual foliage in the background of my photos, which doesn't exactly set the autumnal scene I had in mind… Plus my two winters in a row this year, together with months of being stuck in the house with my busted rib, has left me with an even paler than usual complexion (if that's possible).
It's a world away from the carefully controlled lighting and scenery I use for my amigurumi photos! For the whole time I was trying to get these pics, I was blessed with bright endless sunshine every day, which meant I was often either squinting in the sunlight, or hidden in deep shadow. When there were a few clouds, by the time I got dressed up and on location, the clouds had all mysteriously vanished. And the wind! The wind here is so strong that it has its own name ('The Cape Doctor', as it supposedly blows away all the pollution). My lacy scarves and shawls would not stay put, and my carefully-styled hair whipped across my face and into a mess within seconds.
I was about to throw out all the rejected photos (500+!), but I thought these few were a good demonstration of a tiny fraction of what I went through, so I made them into a little animation for you: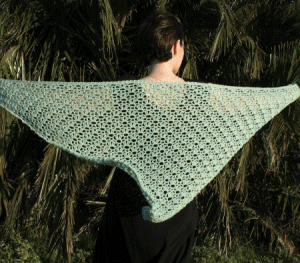 Hahaha! It's a miracle I ever got any half-decent photos, with winds like this!
And by the way, for anyone who thinks you can't block acrylic yarn, look at the drape of my shawl! Blocking works miracles on ALL yarn.
Don't forget you only have until this Sunday to take advantage of the launch week discounts on the new PlanetJune Accessories collection (details in the previous post) – and thank you so much to everyone who's already bought some (or all) of my new designs! I hope you'll enjoy crocheting them as much as I enjoyed designing them, and a lot more than I enjoyed modelling for them 😉