Today is my first Thanksgiving as a Canadian, and I'm not there to celebrate it… But I am thankful that I'm a Canadian citizen and I'll always have that, wherever in the world I may be. As it's not a holiday here, I'll catch up on some PlanetJune admin instead, and give away some free stuff – yay!
Review and Win contest
September's 'Review and Win' winner is Judy C, with her Kingfisher review: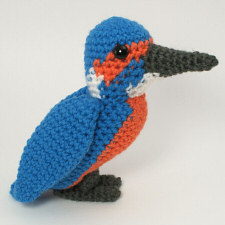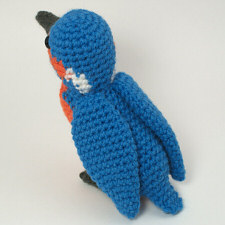 I LOVE the kingfisher that I made from this pattern and am getting a lot of compliments on it. I followed all instructions for the neatest color changes and now I do have a self-standing, perfect kingfisher of my own! All instructions are clear and easy to follow. I highly recommend this pattern-especially for bird lovers like me!
Congrats Judy! I'll email you to find out which pattern you'd like as your prize 🙂
To be entered into this month's draw for a free pattern of your choice, just write a review of any product in my shop.
* * *
PlanetJune Affiliate payments
The end of September also marked my first quarterly payments to my affiliates: you'll all have received your earnings in your PlanetJune account by now, and thank you for referring new customers to my shop!
If you'd like to join the PlanetJune Affiliate program too, you can earn 5% of the value of any orders that are placed using your unique ID code.
Some of my affiliates have yet to generate any sales through their links, so I thought I'd offer some advice in case you've done something wrong and are missing out on your commissions:
You can link to any page in my shop (not the blog)
Don't forget to generate your own unique URL for your links from the Affiliate Marketing Tools page (you can find it under My Account when you're logged in)
If you've put a banner on your site, remember to use your link to my shop
All your links should look like this (except not split onto 2 lines): planetjune.com/shop/index.php?main_page=index&referrer=PJ_1234567890
1. They link to a page in my shop
2. They include your unique referrer code (in this case, PJ_1234567890 – yours will be different!)
And a little tip: a lot of people ignore adverts, so you'll probably have more luck if you e.g. post about something you've made from one of my patterns (with a photo), and link to that pattern using your unique link – that's what my most successful affiliates have been doing, anyway!
If you have any questions about the Affiliate program (or anything else), please feel free to email me.