Let's get this out of the way first: I was given a copy of this book to review. But I'm not being compensated for this review in any other way, and the following is based on my honest opinions!
Overview
Microcrafts: Tiny Treasures to Make and Share, compiled by Margaret McGuire, Alicia Kachmar, and Katie Hatz, is a craft project book that includes 25 miniature craft projects that use a variety of different methods and materials – and each project is no larger than a spool of thread!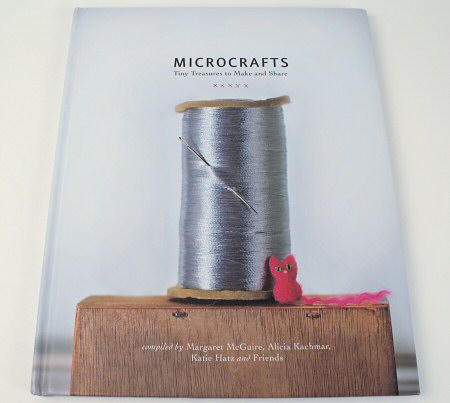 I love tiny craft projects – they can be fast to make, use hardly any supplies, take up no space to display, and have a huge cuteness factor just from their size alone! So I really looked forward to seeing this book, and I wasn't disappointed.
It's a hardcover book, with very nice, understated styling. It's fun just to flip through – the photos are large and clear (larger than life-size!) and the projects are well-displayed. Project instructions are broken down into numbered steps, with illustrations, templates, and tips. It's all well laid out and easy to follow.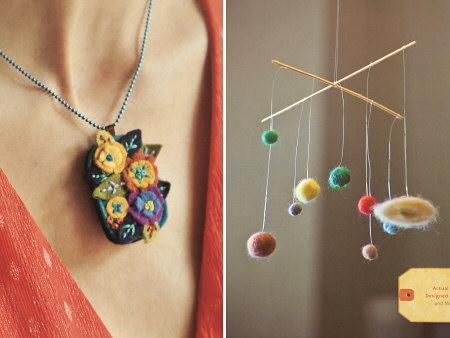 Embroidered felt pendant and a felted planets mobile
The included projects cover a range of styles and difficulties, from the very basic (nutshell boats, miniature paper bunting) to more technically demanding (tiny books, miniature macrame), and a range of materials including paper, felt, fabric, polymer clay, and more. Every project is very different, and there are some original concepts that I haven't seen anywhere else before, so you really get your money's worth, and plenty of scope to spark your imagination.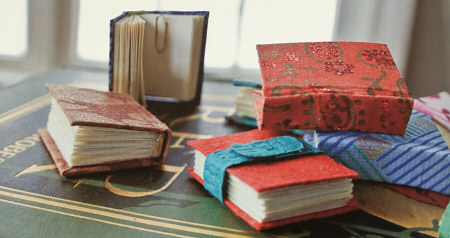 Miniature books
My Experience
I fell in love with the miniature houseplants and macrame hanger but, not having a mini plant pot or access to any live plants, I decided to make all the components myself. I followed the Macrame Hanger (p44) instructions (see below). I also liked the Wire Plant Stand (p45) idea, but not the look of the finished stand, so I came up with my own very simple version. And this is the real beauty of the Microcrafts projects – they are based on such simple concepts that they lend themselves to customizing.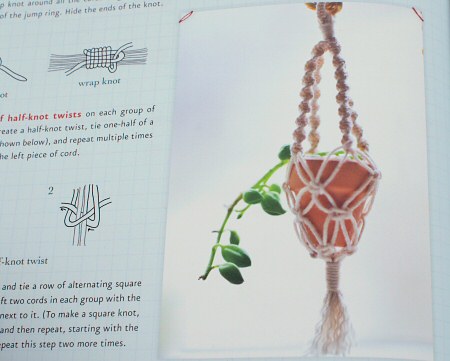 If you're not already familiar with macrame, the Macrame Hanger is one of the most advanced projects in the book. I've never tried macrame before, or any knotting craft other than basic friendship bracelets, so I really put the instructions to the test. Each knot had an illustration that, after a few seconds of study, allowed me to complete it successfully. The concise instructions did leave me puzzled at a couple of places: how thin exactly is "thin cord or embroidery thread or string" and how do I "hide the ends of the knot", for example, but I think I was overthinking it: I used size 20 crochet thread, as I had it on hand; it looks a little finer than the example, but it still looks great – the exact thread thickness obviously doesn't matter.
I only found one mistake in the directions: the instruction for the 4 cords that hold the plant hanger says to make them 1/4″ long – that's far too short. From the picture I assume that should actually be either 1″ or 1 1/4″, but the exact length is something you can decide to look good with your pot, so it doesn't really matter; I just continued until mine looked long enough.
As for the macrame, it might have been easier to practice the knots at full scale before going micro, but it worked! My plant hanger looks exactly like the picture (above), so I must have followed the instructions correctly: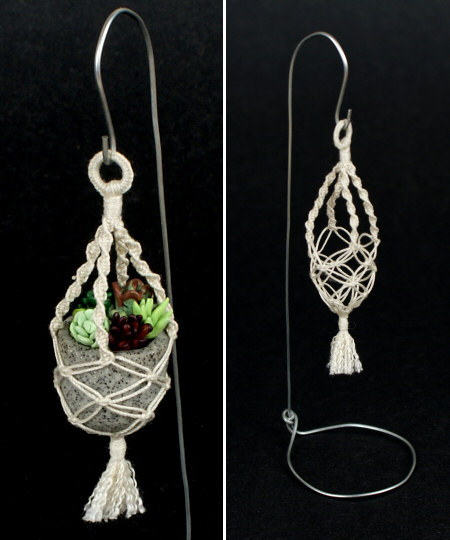 Genius idea – as you can see, any kitschiness you may associate with macrame totally vanishes on this scale. Isn't it adorable? Oh, hang on, maybe you don't appreciate the scale without anything for reference… Here you go: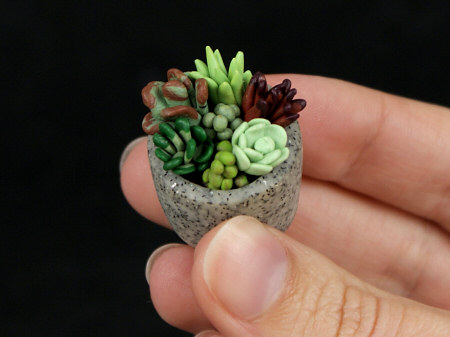 This is a super-sized pic – in reality the entire pot is less than 1 inch (2.5cm) diameter!
I was inspired by the polymer clay projects in the book to create my plant pot and a tiny succulent garden from FIMO. I love how this project turned out, and I had a lot of fun making it 🙂
Peeves
I'm happy to report that I don't have any major gripes about this book!
The introduction to Microcrafts says that microcrafting is "all about putting odds and ends to good use", however, a few of the projects are a bit limiting because they rely on specific products in order to make them. For example, the fabric buttons project requires a fabric button covering kit; and I was very intrigued by the temporary tattoos project but was disappointed to find that it requires "clear temporary tattoo inkjet waterslide-decal paper" – you can't get much more specific than that, and I didn't feel it really fit with the "odds and ends" claim.
This only applies to a couple of the projects though: the bulk of the Microcrafts projects use basic craft supplies (paper, felt, yarn, glue, string, etc) that you probably already have in your craft stash, or could easily buy from any craft supply store.
And I was surprised to see a book about tiny crafts that doesn't include a shrinkydinks project – such a missed opportunity! Note to the authors: that's my suggestion for Microcrafts 2, ladies 😉
Final Thoughts
Microcrafts: Tiny Treasures to Make and Share is a great concept, and well-executed. There's a wide range of projects ranging from very simple (fun to make for or with kids) to more advanced projects that any crafter will appreciate. The various contributors provide a variety of styles and materials used in the projects, so you'll definitely find at least a few that appeal to you, and the others may just provide a spark of inspiration to create your own original microcrafts!
If you appreciate cute and tiny, and enjoy crafting, you'll love Microcrafts. It's a must-keep addition to my craft book reference shelf!