After the magic ring, what's the one other technique you need if you want to create beautifully finished amigurumi? The invisible decrease (abbreviated invdec) – it's absolutely invaluable. Nobody likes to look at a lumpy bottom, and that's true even for amigurumi rear ends! The invisible decrease is as good as its name – you'll have no more bumpy or gappy decreases once you've mastered this technique.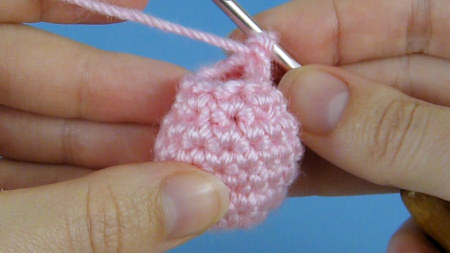 In addition to the obvious use in amigurumi, you can also use the invisible decrease for any piece worked in single crochet, in the round, without turning (e.g. hats). As it leaves unworked loops on the back of the piece, you won't want to use it for anything where you turn between rows/rounds, or where both sides will be on display.
(If you already know how to invdec, you can skip this video, if you like – there's nothing extra that I didn't show you in my original invisible decrease photo tutorial – but I'm building my crochet tutorials video library and that has to include the essential basics as well as clever tips and new techniques. My next video will show you a brand new crochet technique I just developed!)
And now to the video tutorial (in right- and left-handed versions, of course):
Invisible Decrease for Amigurumi (right-handed)
Click to watch this video on YouTube.
Invisible Decrease for Amigurumi (left-handed)
Click to watch this video on YouTube.
Note: The videos may look a little small embedded in the blog: if so, you can fullscreen them or click through to YouTube to watch them full-sized 🙂
UPDATE: If your invisible decreases aren't quite invisible and still look a little gappy, see my follow-up tutorial for tips to perfect your invdec stitches.
If you enjoy my crochet tutorial videos, please help to spread the word about them, and/or subscribe to the PlanetJune YouTube channel.
---
Do you find my tutorials helpful? If so, please consider making a contribution towards my time so I can continue to create clear and concise tutorials for you:
Thank you so much for your support! Now click below for loads more crochet video and photo tutorials (and do let me know what else you'd like me to cover in future tutorials…)