Here's my second design commissioned using my new Commissions process: a Platypus! Thank you to everyone who commissioned this design from me – I hope you like the end result…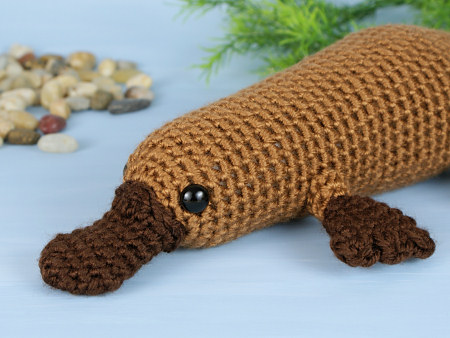 You probably already know that the platypus is a highly unusual-looking animal. When it was first discovered, the specimen was thought to be a hoax (like a jackalope) assembled from a beaver and a duck!
Platypus Fun Facts
Platypus (Ornithorhynchus anatinus) are only found in eastern Australia.
They are monotremes (egg-laying mammals).
Platypus are semi-aquatic. They live in burrows and hunt for their food (insects and shellfish) along river bottoms.
It's almost impossible to breed platypus in captivity, which is why very few people have seen one in real life – you won't see them in many zoos.
The plural of platypus is sometimes written as platypus, platypuses, platypi, or platypodes!
I thought I had a pretty good idea what a platypus should look like, based on toys, cartoons, and the description of 'beaver + duck', but when I started my research I found I was wrong; a google image search shows a huge confusing variety, so I had to learn a lot more about them before I could truly understand what I was looking at. I watched the platypus section of David Attenborough's wonderful The Life of Mammals over and over to see what they look like in motion, and spent a long time researching platypus features so I could make my design accurate. Here's what I found:
Although all 4 platypus feet are webbed, the front feet are hugely oversized and used for paddling. The back feet are smaller and used only for steering while swimming.
A platypus uses its tail to store fat reserves, so a healthy platypus does not have a flat tail like a beaver's tail.
Platypus eyes are located just back from the beak. It keeps its eyes closed while swimming and uses electrolocation to detect food with receptors on its sensitive bill.
It's very easy to understand why people thought the platypus was a hoax: the base of the bill has a really interesting shape which makes the bill look like it's been stuck onto the front of the face and doesn't belong there.
So I took all these facts and built them into my design to make it more realistic. My design uses a couple of neat tricks for shaping the beak and feet/legs, but it's still easy to crochet – I always try to find that balance for my patterns.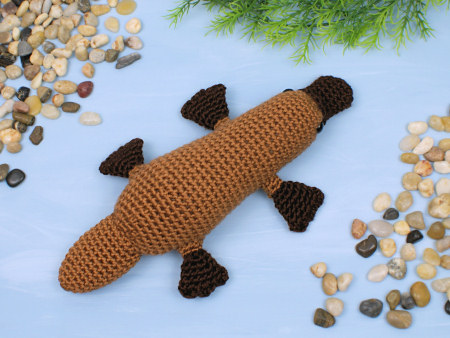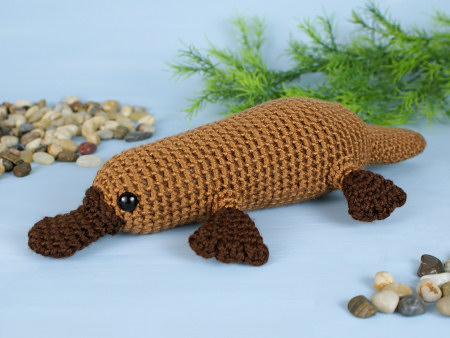 It turned out to be more of a design challenge than I'd anticipated, but, several beak and foot prototypes later, I'm very happy with the result – the final shaping techniques are simple and elegant, and I think he looks really sweet. As a fun extra touch, his webbed feet are also slightly poseable – you can move them around to make him 'swim' 🙂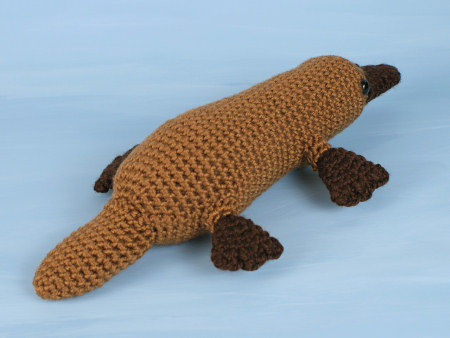 I wonder which design will be commissioned next… (By the way, I have many more designs I'm also working on, so don't worry if nothing else from the list is fully pledged for a while – there are other PlanetJune designs in the works!)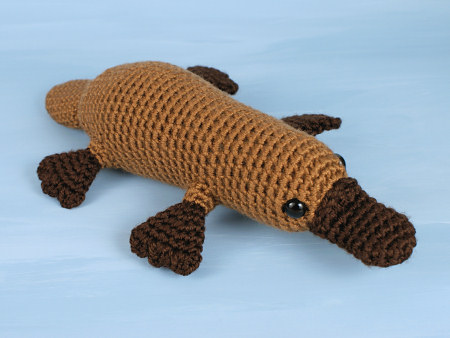 If you pledged towards the commission, you should have already received your copy of the pattern. Otherwise, if you'd like to make a platypus of your own, you can now pick up the Platypus crochet pattern from the PlanetJune shop! I hope you like it 🙂
If you're not quite ready to buy though, how about queuing Platypus on ravelry so you don't forget about it?