Today's PlanetJune Story is from Cherie Fishlock and comes to us from Australia. (Isn't it amazing how crafting connects us all into one big global community?)
Cherie writes:
I've been crocheting for a year and am self taught. June's book, The Complete Idiot's Guide to Amigurumi, was my go-to guide when crocheting amigurumi especially after I discovered the brilliance of the invisible decrease.

Thanks to June's amazing emperor penguin pattern I won first prize at the Royal Show in Canberra, Australia in the beginner's crochet class. I also won champion. It was great seeing the penguin amongst all the crocheted blankets.

I just want to thank June for the well written pattern. I must confess that I crocheted it at the last minute and her clear instructions made the process so much easier especially since I had never done colour changes before.

Unfortunately I couldn't give June the credit she deserves; I wrote on the entry that it was designed by planetjune.com however that was not displayed.

Considering it was the first show I had ever entered I must say I'm now hooked. 😉
I am impressed: my Emperor Penguin, with its white belly and black back, is my most ambitious pattern for colour changes and Cherie obviously handled them like a pro to scoop the prizes with her lovely penguin.
Congratulations, Cherie – I'm really glad that my pattern could help you showcase your crochet skills and capture the attention of the judges 🙂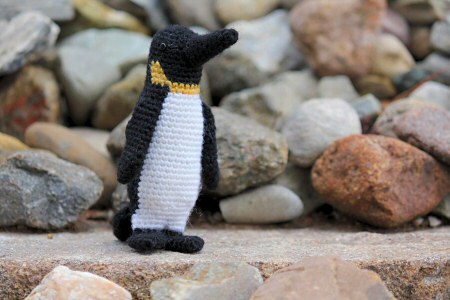 Cherie's Emperor Penguin.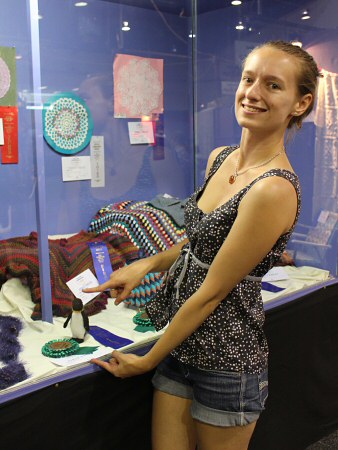 Cherie showing off her prize-winning penguin at the show!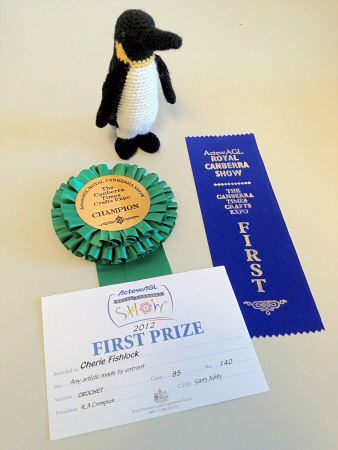 Excellent achievements: certificate, ribbon and rosette.
All very well-deserved, I think, don't you? Please leave Cherie a comment if you've enjoyed this post!
Do you have a PlanetJune Story you'd like to share? I'd love to hear it! Please email your story to june@planetjune.com, together with one or more high quality photos showing what you've made from PlanetJune patterns. If I choose your story to feature here on the blog, I'll send you your choice of pattern from my shop to say thank you!