As if my book release wasn't enough news for today, I've got more to share!
When I was at the zoo looking for inspiration a couple of weeks ago, there was a big cage full of hanging-by-their-feet-fast-asleep flying foxes. I thought I'd take a picture, and just as I got the camera out, this guy woke up and stuck his tongue out at me – what a scamp!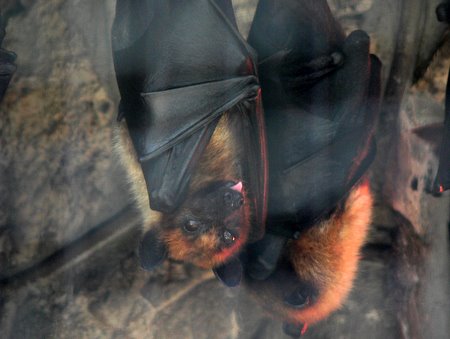 Now that kind of cheeky behaviour is just too appealing to ignore, and with Halloween approaching, it gave me a great idea for a new pattern…
Flying foxes, of course, aren't foxes at all – it's another name for the fruit bat. Fruit bats are very different to regular bats. Most true bats eat insects and fly using echolocation, whereas fruit bats are gentle creatures that feed on fruit or flower nectar. As you can see from the above photo, they are really cute and furry, with big eyes that help them to see in the dark, and long foxy faces.
Ironically, as fruit bats are typically much larger than other bats, they are often used to represent 'scary' vampire bats in horror movies. But there's really nothing to be afraid of, unless you're a piece of banana or mango…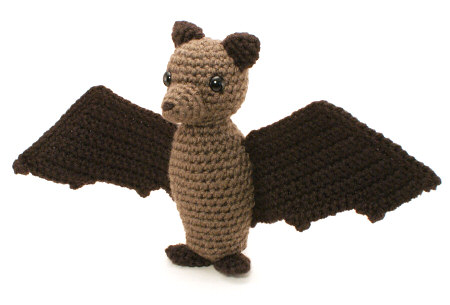 My fruit bat is all worked in single crochet (as usual). His wings are worked in rows instead of rounds. Pipe cleaners in his wings let you wrap the wings around his body, but you can easily omit these if making the bat as a toy for young children or pets.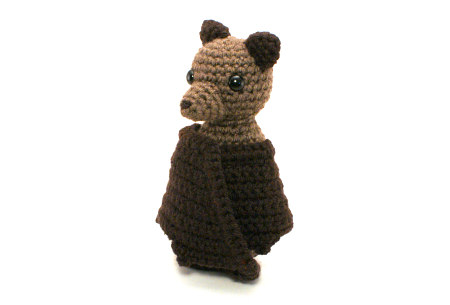 The Fruit Bat pattern is available for only $4.50 from the PlanetJune store.
Now, if you're looking for some Halloween decorations, here are some ideas:
1. Make a fruit bat all in black with red eyes and dangle him from the ceiling with a string (here's a faked version I photoshopped!)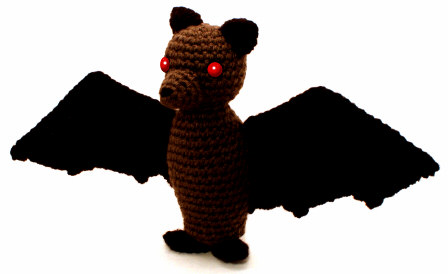 mwah-hahahaha
2. Or try the classic Halloween PocketAmi: Black Cat, Ghost and Witch – a bargain at only $5 for the set of three patterns!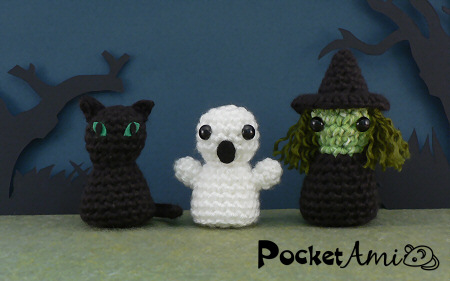 3. How about a scary pumpkin Jack-o-Lantern? (Or try the cute or realistic pumpkin varieties). The Pumpkin pattern is free (but donations are much appreciated and will give you a nice printable PDF file in return!)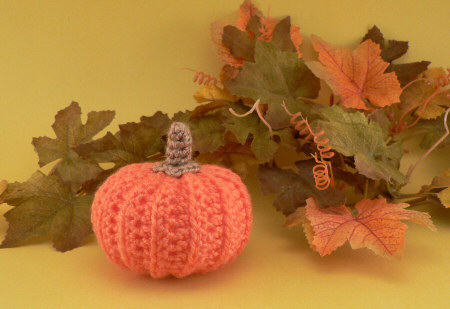 Happy Halloween!