Fruit-Along!
We're having a little fruity crochet-along at the PlanetJune ravelry group, just for fun. Would you like to join in? It's easy: just crochet one or more Amigurumi Apples or Amigurumi Pears from my free (donationware) patterns and post a photo in the Fruity CAL thread! Thanks to Judy for suggesting 'Fruit-Along' name 🙂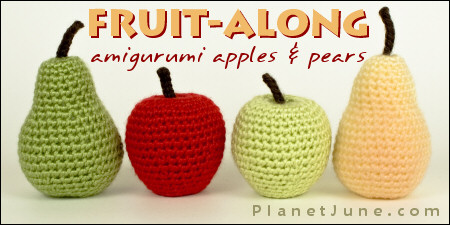 Why would you want to crochet fruit? Here are some suggestions:
Make a mixed fruit bowl – perfect for Fall decor
Give your favourite teacher (or student) a back-to-school gift
Add safety eyes and embroider a smile for a kawaii toy or ornament
Use them as stress balls (I've tried this – it works!)
Add a squeaker or rattle for an interactive toy
Make a mini version (finer yarn and smaller hook) filled with catnip for your cat
Crochet a full-sized version from hard-wearing cotton as a dog toy
…or share your alternative uses in the Fruit-Along thread!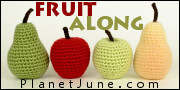 Feel free to grab the image above if you'd like to post about the CAL on your blog, or, if it's too big, I've made this mini button you can save for your blog or anywhere else you'd like to promote the CAL!
Amigurumi Galore!
In order to take the Fruit-Along photo, I had to unpack one box of my amigurumi so I could find my Amigurumi Apples. I thought you might like to see the state of my floor afterwards: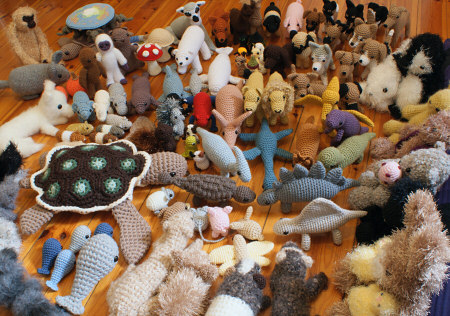 No, this is not all of my amigurumi!
It would have been faster to make a couple of new apples than it was to take all those out and then pack them carefully away again… (I really need to find the time to get some new toy shelves!)
Review and Win contest
Thanks to those of you who've already helped me to fill the blanks in my shop by reviewing my patterns, there are now only 10 patterns in my shop that don't have a single review – wow! I'm carrying over the bonus entry promotion for those patterns forward to September's Review and Win contest. (It's mostly AmiDogs sets that are missing reviews now, and I'd really appreciate it if those blanks were filled by someone who has made those patterns…)
We had 25 reviews in August, and 9 of those were 'firsts' with bonus entries, so that's a total of 34 contest entries. And the lucky winner is Guinevere M, with her review of PocketAmi Set 6: Pets:
These patterns are very detailed and easy to make. I love how they can be customized as well so that you make them to look like your favorite pet. The instructions are clear and concise, and the pictures really help when it comes to assembly. Also, I personally think that this is one of the best cat patterns that I have seen as far as the overall finished product. A fantastic set of patterns, as always.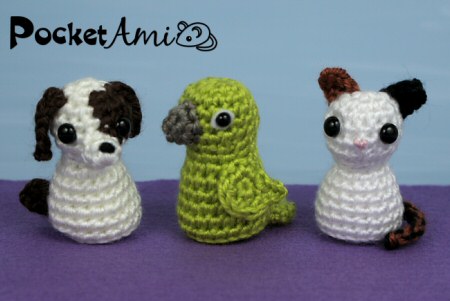 Thank you so much to everyone who writes reviews, and congrats to Guinevere (I'll email you to find out which pattern you'd like as your prize…)