I doubt you'll remember this from previous years, but I've developed my own little holiday crafting tradition of creating a poinsettia every year. I'm not quite sure why I do it, but a tradition that means I only have to make one item per year and forces me to try something new each time sounds pretty good to me. I suppose at some point I'll run out of ideas for different crafts to make a poinsettia from, but I'm nowhere near that point yet!
In 2006 (well before the recent kanzashi popularity!), I made a kanzashi poinsettia: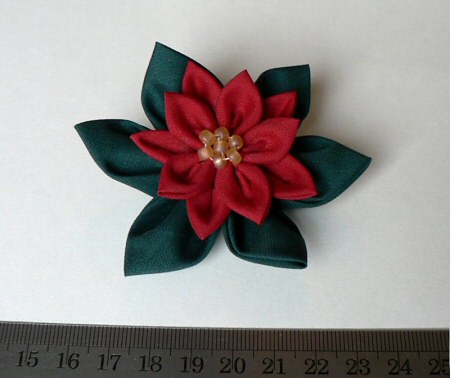 In 2007, I designed the famous crocheted poinsettia (with free pattern):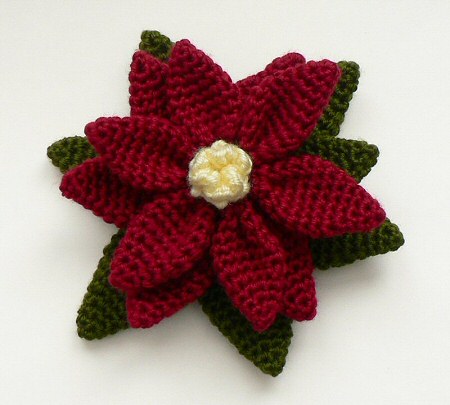 In 2008, I created the polymer clay poinsettia (with free tutorial):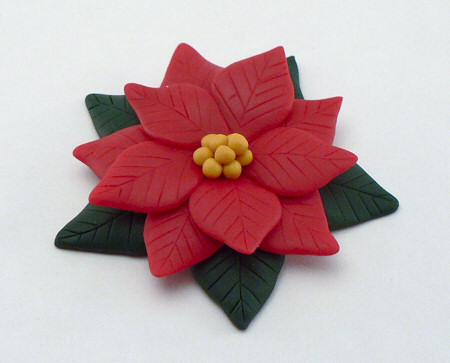 And for this year? Why, it had to be punchneedle embroidery, of course! Here's the 2009 PlanetJune Poinsettia: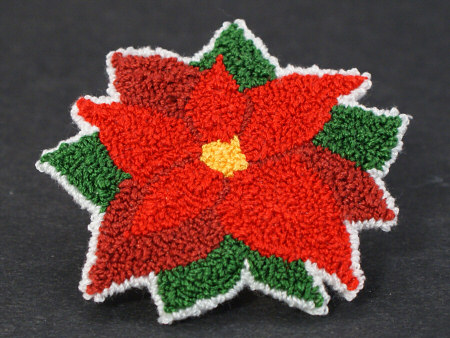 Please click through to see the larger version – it's worth it!
If you'd like to punch your own, the Punchneedle Poinsettia pattern is free! If you're new to punchneedle, you might also like to consider buying my eBook, The Punchneedle Handbook, which will teach you everything you need to know!
This 2.5″ Poinsettia design uses Punchneedle Embroidery for a fast and festive result. It can be made as an applique and attached to almost anything to give it a more Christmassy feel!
Here are a few ideas for use, to get you started:
Attach a felt backing and a pinback to make it into a removable pin
Attach a felt backing and hanging loop and use it as a tree decoration
Use washable fabric glue to attach it directly to a table runner or fabric napkin ring
Use fabric glue to attach it to a bag or purse as a pretty embellishment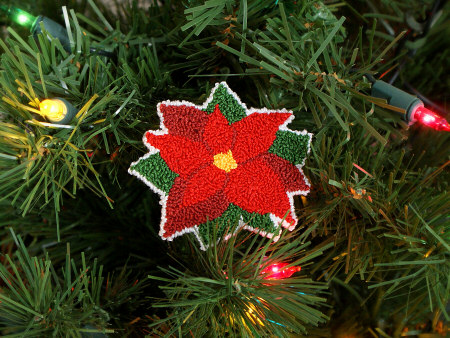 Hope you enjoy the latest addition to my poinsettia collection!
Go to the free Punchneedle Poinsettia pattern >>