Originally, I wasn't sure I'd have time to design a Christmas pattern this year, so I thought I'd make a variant on my Twisted Chain Bangle pattern, to turn it into a miniature wreath ornament. But then, with wreaths on my mind, I came up with this completely new – and better! – idea instead, so we have a new PlanetJune Donationware Christmas design for 2013 after all 🙂
Introducing the Mini Wreath Ornament: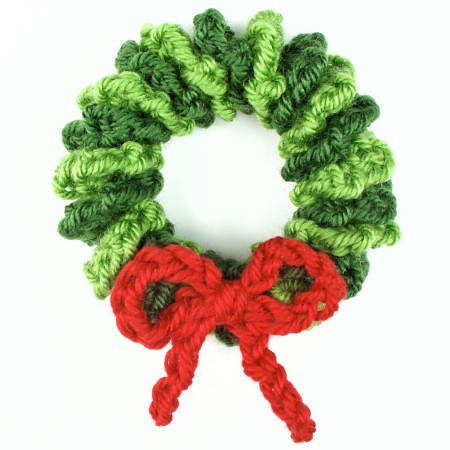 This sweet little pattern lets you make surprisingly realistic leafy miniature wreaths – at only 3″ across, they'd be perfect as Christmas Tree ornaments or seasonal decorations. A Mini Wreath works up in no time and comes together like magic with almost no sewing required – you won't be able to stop at making one! Make them in leafy greens, or any pair of colours to match your holiday decor.
I've accessorised mine with a crocheted ribbon bow, but you could use a short length of real ribbon, or add beads and sequins to represent berries and miniature baubles.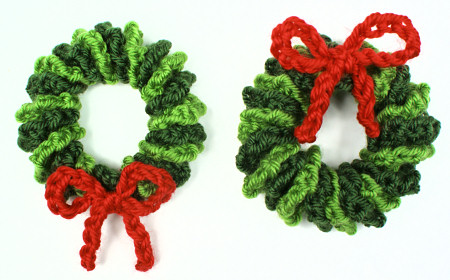 Mini Wreath Ornament is a donationware pattern, which means it's free for you to use, and if you'd like to say thanks by making a donation, you'll get a handy PDF version of the pattern – easy to print or save to your tablet or e-reader 🙂
I hope you'll enjoy making mini wreaths this holiday season!
Go to the Mini Wreath Ornament pattern >>
PS – Don't forget to enter your completed wreaths in the PlanetJune Christmas CAL (on Ravelry) – there'll be prizes for everyone!