© June Gilbank 2013
This sweet little pattern lets you make surprisingly realistic leafy miniature wreaths – at only 3″ across, they'd be perfect as Christmas Tree ornaments or seasonal decorations. A Mini Wreath works up in no time and comes together like magic with almost no sewing required – you won't be able to stop at making one! Make them in leafy greens, or any pair of colours to match your holiday decor.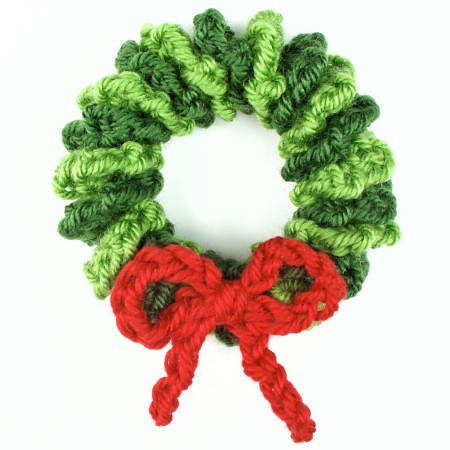 This pattern is Donationware – the pattern is available for free, but if you like it please consider sending me a donation to show your appreciation: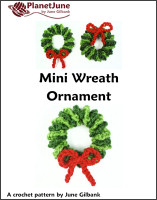 Send me a donation and receive the easy-to-print PDF version of the pattern as a thank you! It includes some additional assembly photos that you'll only find in the PDF version.
Donations of any size are much appreciated. Just add the amount you wish to donate, and, once you have checked out and paid, your pattern will instantly be available to download from your PlanetJune account.
The complete pattern and instructions are available below, regardless of whether or not you choose to pay for them 🙂
This is a PlanetJune original crochet pattern. Feel free to use items made from this pattern however you wish, but I'd appreciate credit as the pattern designer. Please do not reproduce the pattern anywhere else; instead post a link to www.planetjune.com/wreath
Not ready to make it yet? Add it to your Ravelry queue:
Terminology
| | |
| --- | --- |
| ch | chain |
| sc | single crochet (double crochet for UK/Aus) |
| sl st | slip stitch |
| st | stitch |
You will need…
H US/5mm crochet hook
Small quantity of worsted weight yarn in one or two shades of green, and red (or colours as desired!)
Yarn needle to weave in ends
Size
Approx 3″ (8cm) diameter. (Your gauge and yarn choice will affect the finished size slightly.)
Gauge
Gauge is unimportant for this pattern. I like to crochet the wreath with a larger hook than I'd use for amigurumi – the looser stitches prevent the wreath from becoming too rigid. Use the recommended hook size on your yarn's ball band as a starting point.
Notes
As the foundation chain won't be visible, you can crochet into whichever loops you find easiest. (You'll probably find that working into the top loop of the chain is fastest!)
Colour Code
| | |
| --- | --- |
| A | dark green (or any colour of your choice) |
| B | medium green (or any colour of your choice) |
| C | bright red (or any colour of your choice) |
Leaf Spiral (make 2)
With A, ch 36, sc in 2nd ch from hook,
*ch 2, (sc, ch 2, sc) in next st, ch 2, sc in next st;
repeat from * until last ch.
As you crochet, your work will automatically curl up into a ruffled spiral. Fasten off, leaving a long yarn end, and set aside.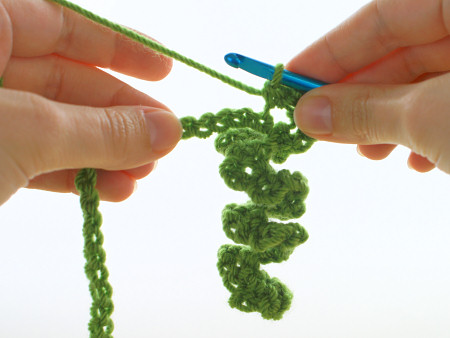 Repeat with B to make the 2nd spiral.
Lay the two spirals next to each other with the yarn tails at the same end. Hold this end of both spirals together and begin to twist the two spirals around each other.
Note: If you hold one spiral still and twist the other around it, you may end up with one stretched more than the other, and the bottom ends wouldn't match up as one would be longer than the other. To prevent this and keep them even, it's best to lift A over B, then lift B over A, and keep alternating in this way to interlace them all the way along.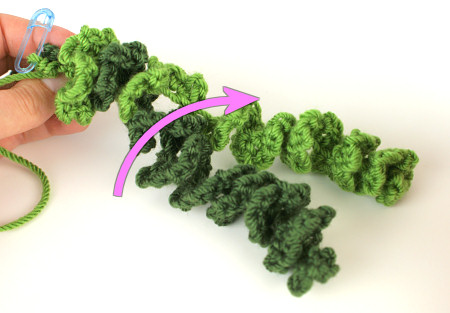 Continue twisting the spirals together all the way along their length, until they are joined into one long ruffled cylinder.
Bring the ends of the cylinder together to form a ring shape. Using a yarn needle and the long yarn end from each yarn, stitch the ends of each spiral together. Don't worry if it's not 100% invisible – the bow will cover it!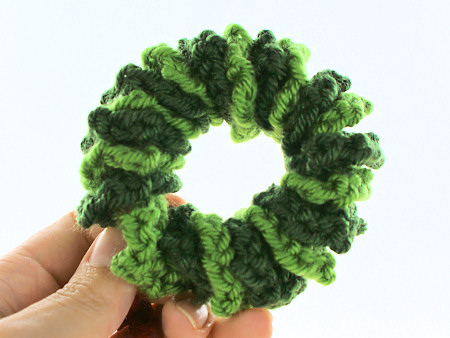 Weave in all yarn ends by passing them along the centre of the wreath spiral, where they won't be seen.
Bow
With C, ch 36. Fasten off, leaving a long yarn end.
Form 'rabbit ears' with the chain around your forefingers: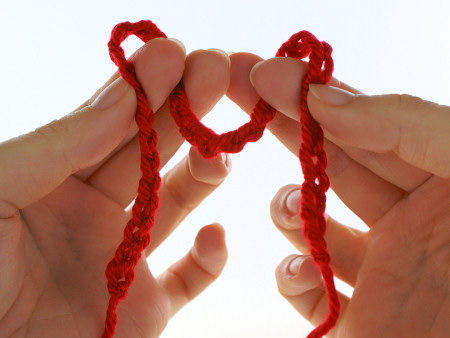 …and tie in a loose bow: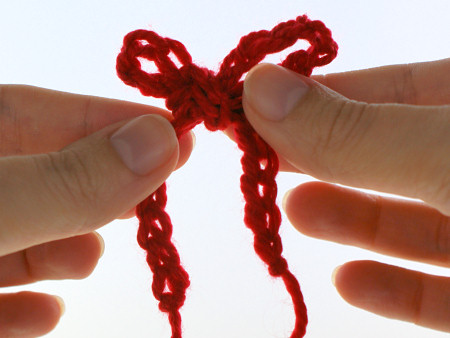 Tweak the loops and ends so the loops are nice and round and everything looks fairly even – it doesn't have to be perfect! – then pull carefully to tighten the knot.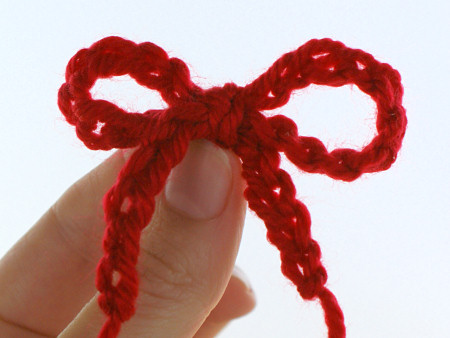 Flip the bow over so you're looking at the backs of the chains. Using a yarn needle, weave each yarn end up through the back bumps of the chain to the knot. Trim the starting yarn end.
To secure the bow (so it won't come undone if someone pulls on the ends), use the long yarn end and wiggle the yarn needle all the way through the knot from the back to the front, then make a second stitch to the back again.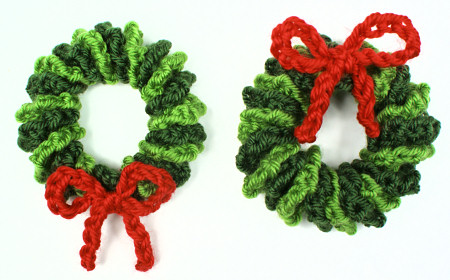 Decide whether you'd like the bow at the top or bottom of the wreath, and position the wreath so the join will be hidden beneath the bow. Stitch the bow in place, then weave in the remaining yarn end.
Options
Stitch or glue small beads or sequins onto the wreath to represent holly berries or miniature baubles.
For a faster wreath, omit the crocheted bow and instead tie a bow from a short length of ribbon.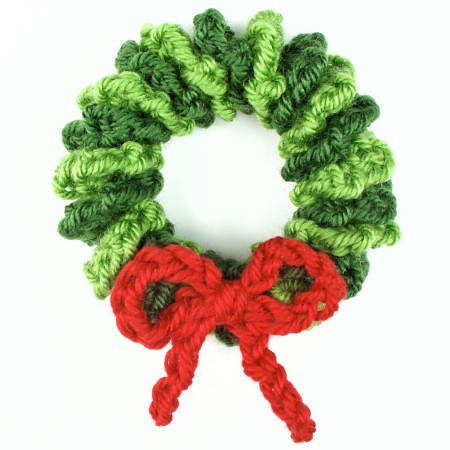 I hope you enjoy this pattern. Please leave me a comment below if you do, and consider leaving me a donation. Thanks!