A couple of weeks ago, futuregirl blogged a photo of a selection of giant pine cones she'd gathered in the forest. I couldn't get that photo of Alice hugging that armful of pine cones out of my head, and I kept reloading the page to look at them again – I had no idea pine cones could even get that big; did you?
With impending book deadlines and taxes to file and other commitments to juggle, I found myself in need of comfort, and the thought of a giant huggable pine cone suddenly sounded like something I had to make, as a fun little break from everything. And the result is a new Expansion Pack pattern: the Giant Pine Cone!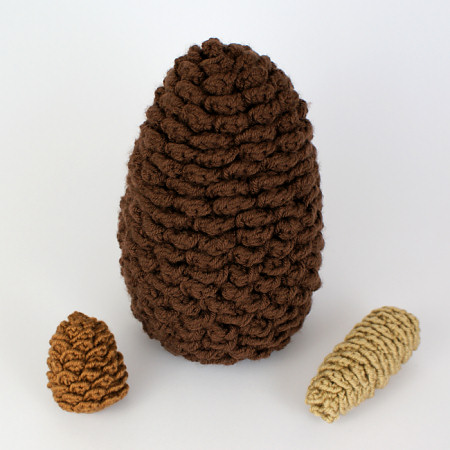 (Those are cones A and E from Pine Cone Collection, for size comparison!)
Giant Pine Cone is based on my very popular Pine Cone Collection pattern, but super-sized and with a few additions to improve the shape and appearance at such a large size.
It's about 8″ tall and can be worked with 2 strands of worsted weight yarn held together (as I did) or a bulky/chunky yarn – the thick yarn not only makes the pattern work up more quickly, but also keeps the scales of the pine cone realistically proportioned.
Or you could make a not-quite-so-giant pine cone with just 1 strand of worsted weight yarn as usual (and a smaller hook – details in the pattern). The mini Giant Pine Cone option would be about 5″ tall, so it takes much less yarn, but it'd still tower over all the cones in my original collection!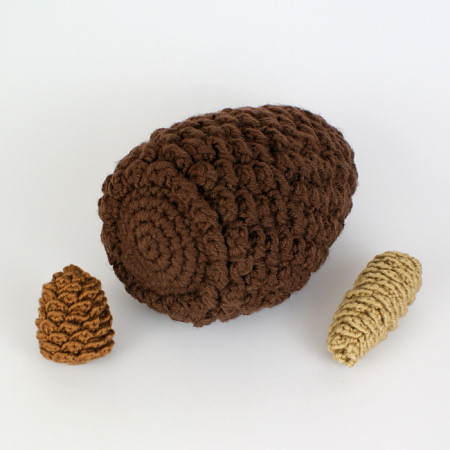 The finished giant cone is wonderfully soft and squishy – the large yarn scales add a layer of plush cushioned padding that makes it really tactile to hug and play with (I'm speaking for myself here, but I'm sure kids would love it too), but it's also weighty enough to stand up by itself – it's even more appealing than I imagined it would be! Maui can't resist it either – he's already been snuggling up with it as a giant pillow…
If you've made my original Pine Cone Collection, you'll know how easy and fun the scales are to crochet, and this version is no different – it just takes a bit longer because it's so much larger, but, for its size, it works up surprisingly quickly.
What is an Expansion Pack?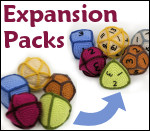 An Expansion Pack is an add-on to an existing PlanetJune pattern.
The Expansion Pack lets you modify or add to the original pattern to create something else.
You cannot use the Expansion Pack alone – you must also purchase the original pattern in order to be able to complete the pictured items in the Expansion Pack pattern.
You can buy the Giant Pine Cone Expansion Pack for only $2.50 individually from the shop, or, if you haven't already bought the Pine Cone Collection pattern, you can select it as an add-on to that pattern before you add it to your shopping cart, and save 50c on the pair.
Launch Discount
If you've already bought the Pine Cone Collection, you won't be able to save that 50c. But, for 7 days only, add the Giant Pine Cone Expansion Pack pattern to your shopping cart, together with anything else (totalling $5 or more), then use the code PINECONE at checkout and you'll still get your discount! (Valid until next Tuesday: 3rd December 2013.)
Note: If you don't need anything else right now, this also applies to Gift Certificate purchases, so you can pick up a $5 gift certificate now, get your discount, and have $5 in your PlanetJune account ready for your next purchase, or to send to a crocheting friend!
Can you resist making your own Giant Pine Cone?
PS – Don't forget to share photos of your Giant Pine Cones in the Christmas prize CAL thread on Ravelry too…