This shawl has been a long time in the making! I created the design over a year ago with the idea to make it a 2-in-1 pattern, but life got in the way of all my plans and I didn't have time to finish Part II, so this beautiful shawl has just been sitting for many months with the pattern complete apart from the stitch diagrams and a few photos. The November/December PlanetJune Accessories CAL seemed like the perfect opportunity to get those final pieces together and release my lovely but neglected design into the wild…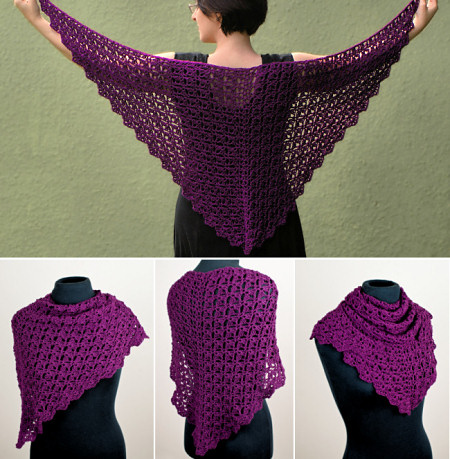 Cascading Clusters is a triangular shawl with an elegant curve along the top edge so it hugs your neck and won't fall off your shoulders. The lacy squares quickly grow from the centre top so you can keep crocheting until the shawl is the size you want, then add the pointed scallop border as the finishing touch. The lace pattern has a 2-row repeat, so you'll pick it up in no time and be able to enjoy crocheting without having to worry about a complicated pattern.
As with all PlanetJune Accessories designs, the pattern includes clear written instructions together with full stitch diagrams, so you can work solely from one or the other if you prefer to use only charts or text patterns, or refer to both for additional clarification.
The shawl is fully customizable in terms of size; just keep going until you like the size or you run out of yarn! And it's flexible enough to work well with multiple yarn weights (I have a stunning laceweight alpaca/silk version in progress…) – go fine for a delicate wisp of a shawl, or use a heavier yarn for a much faster, but still stunning, result. My sample shawl is worked in a sport weight.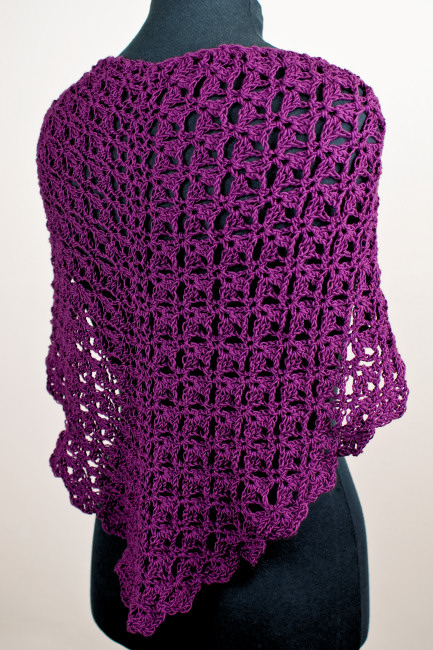 I still plan to make Part II and release it as an Expansion Pack, so you'll be able to get even more value from this pattern when that happens! In the meantime, I hope you'll enjoy the Cascading Clusters Shawl as much as I do – don't you love the rich purple colour of mine?!
You can buy the Cascading Clusters Shawl pattern individually from my shop, or save money by including it as part of a custom set of any three PlanetJune Accessories designs for a bargain price.
Even if you're not quite ready to buy now, how about queuing/faving it on ravelry so you don't forget about it?
If you'd like to make this shawl, or any of my other accessory designs, I hope you'll join us in the PlanetJune Ravelry group for the Accessories CAL, from now until the end of 2013!