Never lose your lip balm again (or have it melt in your pocket) with this stylish holder! Clip it to your keyring, to your bag, or even to your belt loop and you'll always have lip balm at hand when you need it. Quick and easy to crochet, just pop a lip balm inside and you have a perfect little gift!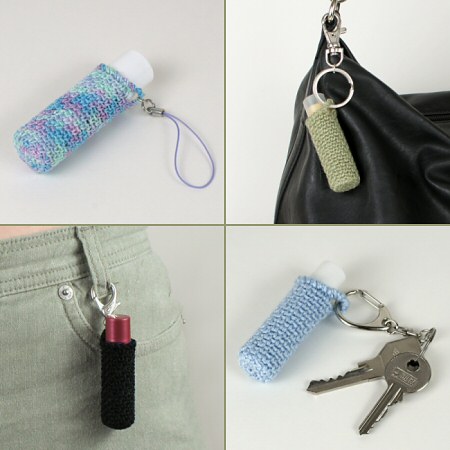 You've probably seen simple lip balm holder patterns before, but not like this one! Why?
It's worked in a fine yarn/thread with a small hook, so it looks subtle and elegant, not bulky and only appropriate for kids (although it's great for kids too!)
Don't be put off by the tiny size: this pattern is designed to be easy on the hands! Only the base is worked in single crochet; the sides are worked into chain-spaces, so it's much easier to insert your hook to begin each stitch.
The sturdy hanging loop will keep your holder safe*.
*In case you're wondering about that 'sturdy hanging loop' part, I know what I'm talking about! I first made myself lip balm holders from crochet thread in 2006. They lasted well, but I'd attached each to a metal ring by crocheting the ring to the top of the holder: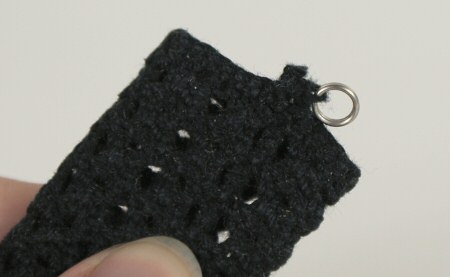 After prolonged use, the strands of thread attached to the ring frayed through, as you can see, so I determined to give my new design a sturdy loop so the thread isn't stressed at any one point.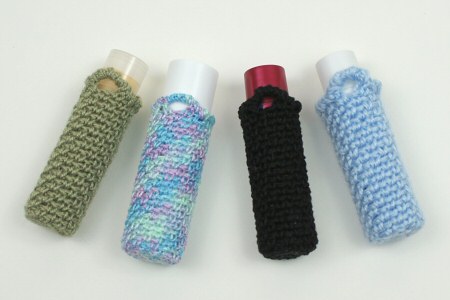 I tested this pattern using 4 different thicknesses of thread and yarn, so you can see how versatile it is. L-R: size 5 crochet thread, size 8 pearl cotton, size 10 crochet thread, fingering weight yarn (Bernat Baby).
It works up very quickly, and if you add a yummy flavoured lip balm inside, it'll make a perfect stocking stuffer gift!
This is a donationware pattern, and I've changed things slightly this time by adding some additional info that you'll only find in the PDF version (which you'll receive as a thank you for your donation):
A modification to make the holder slightly wider (in case you crochet tightly or have a non-standard-width lip balm tube)
A simpler edging (in case you don't get along with reverse single crochet)
Tips for attaching the various types of hardware that you see in my photos
But, as always, the pattern is free for your use and donations are entirely optional 🙂
Enjoy!