Today I'd like to show you my favourite technique for making a decorative crocheted edging. Reverse single crochet (also known as crab stitch) makes a twisted cord edging, and it's very easy to achieve – it's no more than a single crochet stitch, but you work in the opposite direction to usual (left to right for right-handers; right to left for left-handers). Provided you don't work too fast and tangle up your stitches (which is easy to do when you're working backwards) it's an easy technique to master.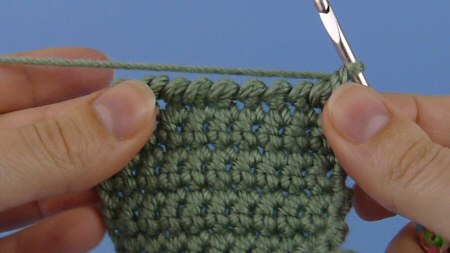 As it's easier to show than to tell, I've put together a new video to demonstrate. I hope you'll find it useful, if you haven't already mastered this stitch.
(If you want to practice the technique, it'll be featured in both of my next two patterns, and you'll get a peek at one of them in the video – another new donationware pattern to be released later this week!)
Reverse Single Crochet (right-handed)
Click to watch this video on YouTube.
Reverse Single Crochet (left-handed)
Click to watch this video on YouTube.
Note: The videos may look a little small embedded in the blog: if so, you can fullscreen them or click through to YouTube to watch them in full HD resolution 🙂
I've been compiling a list of crochet technique videos that I plan to create over the coming months. If you have any suggestions you'd like me to add to my list, please let me know.
If you enjoy my crochet tutorial videos, please help to spread the word about them, and/or subscribe to the PlanetJune YouTube channel.
---
Do you find my tutorials helpful? If so, please consider making a contribution towards my time so I can continue to create clear and concise tutorials for you:
Thank you so much for your support! Now click below for loads more crochet video and photo tutorials (and do let me know what else you'd like me to cover in future tutorials…)