I call this a lip balm holster because with it hanging from your belt you can "quick draw" the lip balm from the holster and have immediate access in those emergency lip balm situations 🙂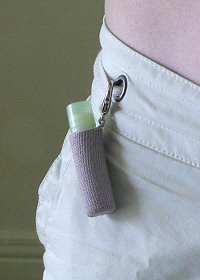 I crocheted this first one a while ago with size 20 crochet cotton. I just spiraled around the bottom in single crochet until it was wide enough and then turned the corner and spiraled up the sides. I attached a large lobster claw clasp with a crocheted chain, and voila! It was easy to make, but took a while because of the number of tiny stitches involved.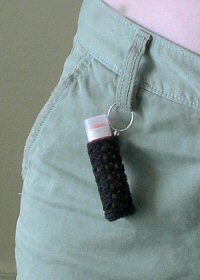 After the success of my crocheted bag a couple of weeks ago, I had some thread left over, and thought maybe I could make a matching lip balm holder with the excess. This one was really quick to make and works well if the lip balm has a nice coloured case (this is an Avon orange lip balm so the colour shows through well, although not really in the above picture). I crocheted a small split ring to the top of the holster and then used a memory wire ring as the clip – it's easy to slide it over a belt loop and it's much easier to open than a keychain ring.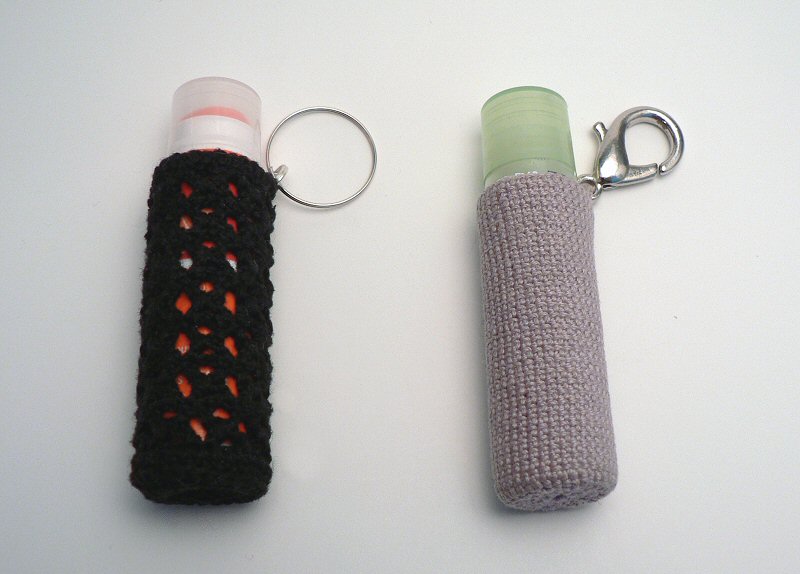 The best part about these holsters is it stops the lip balm from melting in your pocket!